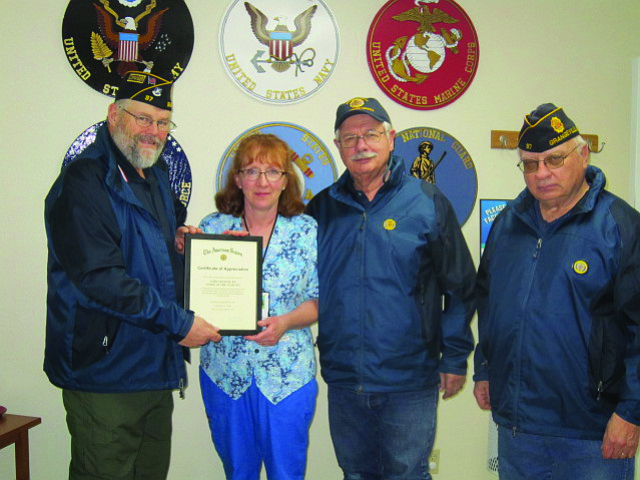 GRANGEVILLE — The Grangeville American Legion Post 37 celebrated the 98th birthday of the American Legion with a party on March 11 at the Idaho County Veterans and Community Center. Unit 37 of the American Legion Auxiliary provided cupcakes and snacks. The keynote speech on the American Legion programs was given by Commander Don Owen.
Community Awards in recognition for service were presented to: Brittany Stewart, Teacher of the Year at Grangeville Elementary and Middle School (the teacher of the year at Grangeville High School will be honored at Class Night in May); Provider of the Year honored was Beth Monsebroten, FNP, who is the nurse practitioner at the VA Clinic in Grangeville. Lori Graham, RN, was honored for her compassionate care of veterans at the Grangeville VA Clinic; Michael Brewster was recognized as the Idaho County Sheriff's officer of the year; Randy Long was recognized for his work for the Grangeville Police Department as the officer of the year; Robyn Embry, a retired smoke jumper for the Forest Service, was selected for commendation as the outstanding EMT of the year; and firefighter of the year was Grangeville Volunteer Fire Department officer Ron Funke, who retired last year after 25 years of service.
The American Legion Auxiliary recognized Esther Owen as auxiliary member of the year for her volunteer work in helping with meals and legion events. New auxiliary member Jinny Cash was honored by the auxiliary for her dedication in starting the Idaho County Veterans and Community Center and providing a meeting place for the auxiliary.
The Legionnaire of the Year was Gary Zabel. He has recently gone through some challenging health issues, but despite his challenges he has remained a loyal supporter of the legion and participates in the post honor guard at funerals whenever he can. The Sons of the American Legion (SAL) member of the year was presented to Rusty Owen.

Appreciation gifts were presented to legionnaires Connie Workman, Roberta Simonsen and Katrina Bentley for all the things they do for the post and the community. Morris Bentley was given a Legion Century baseball cap in recognition for his dedication as the honor guard committee chairman. All members of the honor guard were recognized with a veteran flag lapel pin and acknowledgment for their dedication in helping with the honor guard.