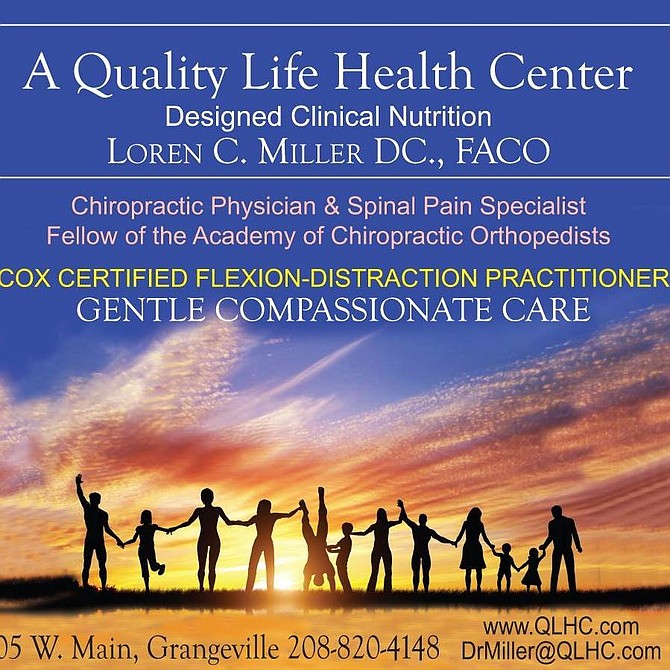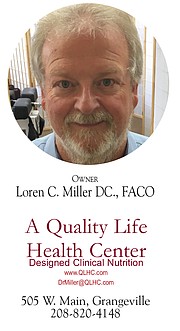 Dr. Loren C. Miller is Grangeville's new chiropractic service provider. As a board certified chiropractic orthopedist and proprietor of A Quality Life Health Center, located at 505 W. Main Street, adjacent to Groaner's Gym, Dr. Miller's education and experience set him apart from other chiropractors.
"Fewer than 2 percent of chiropractic physicians attain diplomate status as a chiropractic orthopedist," he said. "To become board certified, the chiropractic orthopedic specialist is required to demonstrate advanced proficiency in the evaluation and non-operative management of a myriad of injuries, conditions and disorders of the neuromusculoskeletal system."
Being a chiropractic orthopedist means having the training to treat neck and back pain, disc conditions, numbness or tingling of the extremities, sports injuries, motor vehicle collision injuries, chronic pain, fibromyalgia, headaches, arthritic conditions of spine and extremities, carpal tunnel syndrome and repetitive trauma injuries.
"The goal is to maximize the patient's ability to perform his or her activities of daily living without pain or loss of function, as far as is possible," Dr. Miller said. "As people survive conditions that once would have been debilitating, the field of chiropractic orthopedics is moving to the forefront of chiropractic."
Dr. Miller's patients include all ages, and he treats problems that can affect all the major body systems.
"We are never in a hurry, nor do we rush through a treatment," he said. "Comfort and safety for the patient is always foremost in our mind."
Call Dr. Miller at 208-820-4148, visit QLHC.com, or look for the "A Quality Life Health Center" page on Facebook.