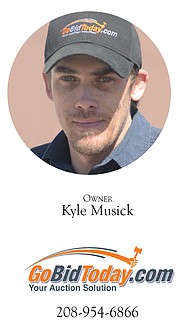 Antiques come in all shapes and sizes – from toys and books to furniture and cars – and it's not always obvious what is valuable. Buyers are on the prowl for all kinds of things: from guns and hardware, to glassware, paintings and all kinds of art.
Decorative items can be easy to buy and hard to sell – but practical, useful items can also be tough to price.
"That's why you put these things to auction," said GoBidToday.com owner and auctioneer Kyle Musick. "If you need to sell something, there may be someone who is ready to buy it right now. To get the most for your best items, you need to present them to as many potential buyers as possible and Internet marketing is the way to make that happen."
Among the stronger-selling items are things such as air hoses, floor lamps, appliances, motors and machinery. They're tremendously useful to the right people, but how do you find them?
GoBidToday.com puts such items in front of buyers, as well as cars, trailers, trucks and other road vehicles. Licensed in 2013, Musick and his wife, Ashley, also sell real estate – through the website, or through a live auction.
When a loved one passes, dealing with their belongings is often a hard thing for family members to work through, and while small items are frequently a big part of any estate sale, the GoBidToday.com team also has considerable experience moving shop and garage items, such as ATVs, snowmobiles and farm equipment.