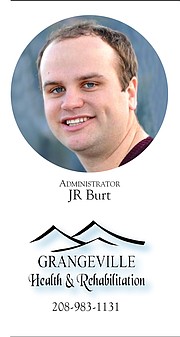 When you're looking for a place – temporary rehab or long term – for your loved one, you want the best. Did you know Grangeville Health and Rehabilitation is a 5-star facility? So, what exactly does that mean?
GHR, with its owner, Advanced Healthcare Corporation, has an overall rating of 5 stars (the highest) and has the highest ranking in health inspections, staffing and quality measures.
This means the facility has met stringent Medicare and Medicaid quality requirements. Quality rating includes 11 different physical and clinical measures. Health inspections mean annual reviews, medicine management check-ups and quality food storage and preparation assessments.
Staffing examinations include care hours per each resident and the quality of that care. Quality measures include overall resident health, falls, injuries and weight loss of patients.
What all of this means to you is GHR offers above-average care for your loved ones. A large part of this care includes 5-star dining experiences, as well.
GHR's goal is to serve well-balanced, attractively prepared meals in a pleasant setting that provides opportunities for social interaction.
Special meals are available to accommodate residents' health problems, as well as their religious and ethical needs — such as for those who need or choose to have a vegetarian, vegan or gluten-free diet.
Overall, the quality of care as a whole at GHR is second to none. We invite you to call or stop in and discuss your loved one's care.