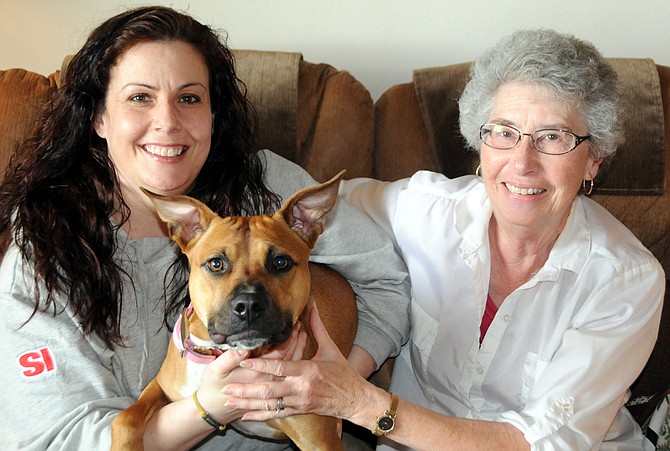 Photo by Lorie Palmer
Honey the dog is right at home with her owner (left) Carolyn Kuert and her other mother (right) Nona Donaldson. The two share the dog who was formerly a stray and fostered by Kuert, an Animal Ark volunteer.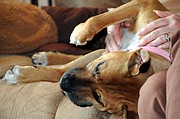 Curious about your breed?
GRANGEVILLE — Do you wonder what breed or breeds Honey the dog includes?
Nona Donaldson and her son were also curious. So much so that they paid for a canine DNA test.
"We held her down and swabbed the inside of her cheeks," Donaldson laughed.
The test is through Wisdom Panel 4.0.
"I got an e-mail the samples were received, so now we wait," Donaldson said. "I'm really anxious to see what it turns out to be."
Guesses from people so far have included Rottweiler, boxer, pit-bull and dingo.
Results should take another two-to-three weeks.
The Free Press will keep its readers updated when the results come in.
GRANGEVILLE — A stray dog roaming the streets of Grangeville ended up with a double happy ending: Two homes.
However, it wasn't only the canine that received help; she also offered it.
"I feel good to have helped her, but, honestly, I needed her, too," said Nona Donaldson.
Donaldson lost her husband, Howard, in an automobile accident in April 2016. Several months later, their beloved dog, Sadie, also died.
"It was a lot to handle. And I was not looking for another dog," Donaldson said.
However, her daughter had a different idea. She saw an Animal Ark dog advertised in the newspaper and encouraged her mom to call about it.
"Finally, I did call," said Donaldson.
What she discovered was Animal Ark volunteer Carolyn Kuert had been putting food out for a scared stray she couldn't get near.
"Then she was brought to the pound about six months ago, and when I went in to see her, she came right to me," Kuert said. That familiar face and voice that had been kind to her paid off, and Kuert took the dog home.
She said the female mix, who weighs about 40 pounds, was "so sweet and loving," she could only give her one name.
"Honey," Kuert smiled.
Though Kuert fell in love with Honey, she also felt a different home was needed for her as she did not have a yard for her to run in. She also had two Chihuahuas, a turtle and a bird.
Honey also had separation anxiety and with Kuert working full time as a cook at Seasons, Honey had to be kenneled during these hours.
"So, my plan was to foster her until the right family came along to adopt her," she said.
Enter Donaldson.
"I called and Honey came to visit for a day," she said.
Even though Donaldson fell in love with Honey, she said she just didn't have a peace about adopting her.
"I just retired last year and I now have some freedom to visit my kids and grandkids when I want to," she said. "I just wasn't sure I was ready to be tied down full time with a pet."
But the fact still remained that both women loved this dog.
So they came to an agreement.
Honey lives with Kuert; however, when she's at work, she goes to "doggy day care" at Donaldson's home.
"She's so funny – she loves to come here and is excited and happy and we have a great time," Donaldson said. "But when 'mom' drives up, she's at the window, excited and ready to go with her."
Donaldson has the yard where Honey runs and plays during the day and she also walks her four-legged friend for both their exercise needs. Donaldson is the first to admit a not-so-secret truth:
"Honey's a bit spoiled," she smiled.
Treats and toys and food as well as plenty of love times-two.
"I just hope people realize you can adopt great pets who really need a home through Animal Ark," Kuert said as Honey wrapped her paws around her owner's neck and hugged her.
"She's a great dog," Kuert laughed.
Reach Animal Ark at 983-0366.