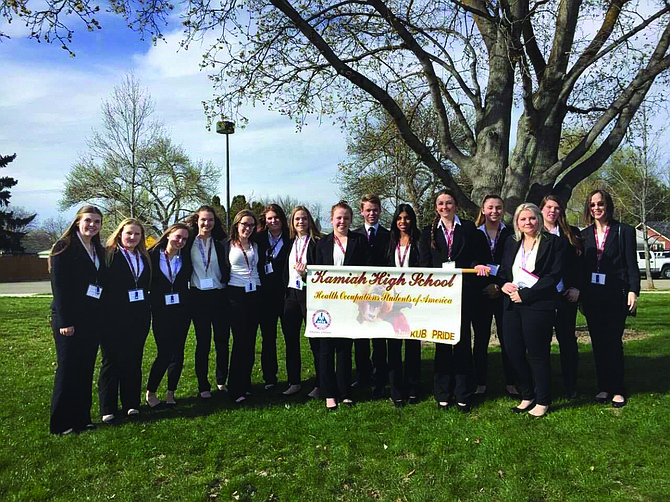 KAMIAH — Kamiah High School students received recognition at the recently-completed Idaho State HOSA-Future Health Professionals Leadership Conference held in Boise, April 5-7.
More than 800 secondary and post-secondary students from throughout the state attended the event which featured an opening ceremony followed by two days of competitive events and a closing ceremony.

Kamiah High School Principal Peggy Flerchinger expressed pride in the students' accomplishments, noting they competed against students from all school sizes (1A-5A) and even charter schools whose emphasis was to prepare students for health care fields.

"This is a positive reflection on the quality of the students and instruction at Kamiah High School," she stated.
Kamiah fielded four teams and three individuals who competed in Health Science, Leadership and Teamwork events.

Bringing home gold medals for their preparedness public service announcement about ecology and healthy living were Laura Dow, Chloe Hescock and Claire McNall. A second team comprised of Marlee Engledow, Irene Popp, and Zoe Wilcox earned silver medals for their public service announcement about wildfire preparedness.
Two teams who competed in the health education category also medaled with Lacey Kludt, Davi Murphy, Chynna Wilcox and Sydney Wilcox earning silver medals for a lesson about sports concussions. Bronze medals were awarded to Destiny Knight, Irene Popp and Zoe Wilcox who prepared a lesson about the HPV vaccine.
All gold, silver and bronze medalists qualify for the 40th annual International HOSA-Future Health Professional Leadership Conference being held in Orlando, Florida, June 21-24.
Two individuals also received special recognition at the state conference. Lacey Kludt was elected vice president for regions 1 and 2, and Davi Murphy received a $1,000 scholarship to attend the International HOSA Leadership Conference.
The success of the team creates a challenge for the eleven qualifiers who now must quickly raise enough money to fund the trip to Orlando in June.

Terry Law, advisor to the Kamiah HOSA chapter said planning for fund-raising is under way.
"The way the community supported these young people last year was absolutely amazing. We will work hard to plan events around which the community can rally," Law said.
Details about the fund-raising will be released soon. A Go Fund Me page has been set up: https://www.gofundme.com/khshosa2017
Also competing for Kamiah at the State Leadership Conference were Brett Raymond in prepared speaking, Hailey Robinson in medical reading, and Katie Wilkins in health career photography. Andrew Marten and Lauren Paterson also serve as advisors for the chapter .