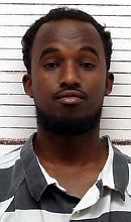 GRANGEVILLE — Mohamed M. Seid will serve a year in jail, followed by eight years on probation for his conviction on a felony manslaughter charge. As much as it is punishment for the 29-year-old Minnesota man, it is also a chance for redemption, according to District Judge Gregory FitzMaurice, that was provided through the mediated efforts of the prosecution and defense attorney, as well as with the understanding of the victim's family.
"This is an opportunity for you, Mr. Seid, to prove to the court, to the victims, to your family and friends that you are the person that's been presented to the court," said Judge FitzMaurice at Monday's April 17 sentencing hearing, "and one, I believe, at this point, to be true."
As part of the sentence, FitzMaurice withheld judgment, meaning if Seid completes the terms of sentencing, the case would be dismissed. "If you violate it," he said, "you will be returned to me for sentencing," which, by statute, up to 10 years in the state penitentiary could be imposed.
Indication was Seid planned to have the sentence transferred to Minnesota under the interstate compact. The jail sentence would allow him to serve time but also work to pay imposed costs for incarceration. Addressing a concern by Seid's Coeur d'Alene attorney, Monica Brennen, FitzMaurice clarified 364 days of jail time (with credit for 28 days served) to avoid a deportation proceeding automatically kicking in for Seid, an immigrant from Somalia.
Victims were not requesting restitution, and during the hearing it was noted the family of victim Marea L. Burkenbine had entered into a confidential settlement with the trucking company, Swift Transportation, which included funeral and other expenses. As part of the plea agreement in this case, the $5,000 civil penalty was not imposed, but $245.50 in court costs were ordered.
Seid's driver's license was suspended for one year; however, his commercial driving permit and license were revoked for the remainder of his life. FitzMaurice said Seid, as a truck driver, was ill-suited, not adequately trained and inexperienced, and on his lifetime prohibition for Seid to drive commercially he said regarding last year's tragedy, "I want to make sure this doesn't happen to anyone else again."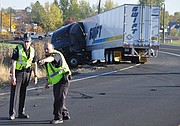 Seid, of Waite Park, was charged in the Sept. 30, 2016, death of Burkenbine, 57, of Grangeville, following a two-vehicle collision on U.S. Highway 95 just south of the Grangeville Main Street/State Highway 13 intersection. According to the Idaho State Police investigation, Seid was driving a 2015 Freightliner tractor-trailer combo northbound, en route to Lewiston, and entered a 35 mph left-hand curve at speeds too fast for the critical speed of the curve. The tractor-trailer then slid across the double no-passing lines where it struck nearly head-on a southbound 2005 Chevrolet Trailblazer driven by Burkenbine.
Prior to sentencing, Brennen, made note of Seid's remorse throughout this case and his acknowledgement of his negligence was at fault for the accident. "For a young man, he has accomplished quite a bit," she said, noting he is married with two children born in the U.S., having come from a difficult life in a refugee camp. Seid would be successful on probation, she said, and has a job lined up following his release from jail.
The Sept. 30 accident was not intentional on Seid's part, according to Idaho County Prosecutor Kirk MacGregor, "but we believe there was serious inattention and reckless conduct." In part, this is based on his passing two speed signs for 45 mph and 35 mph while still traveling an estimated 68 to 69 mph when braking was applied just prior to the crash. As much as punishment was warranted for the seriousness of the case, MacGregor also said it serves as a deterrent for other truck drivers to "remind them to pay extra attention to speed limit signs."
Speaking through an interpreter, Seid for several minutes expressed his apology for the "bad actions that happened," recognizing there was nothing he could do or say to ease the pain of Burkenbine's family. "I wish I could take back everything that happened to her but there's no way I can do that…. I want to give my deepest condolences and sadness on how in affected the family and the community." He said his actions have affected him: "I am a totally different person myself, because of what I did, what happened that day." Seid asked for forgiveness from the family, and he said he would fully accept whatever sentence the court would give.
At sentencing, Judge FitzMaurice said, "This is a difficult sentence for us," but in determining what justice would be in this case, he said, was based in a large amount on MacGregor and Brennen agreeing on mediation and working with a senior district judge to reach a fair resolution. This agreement doesn't take away the victims' loss, but "The Burkenbine family and friends have gone a long distance in trying to show as best they can a degree of understanding, a degree of empathy," he said.
"I'm proud and touched," he continued, "by the fact this community — despite the outward perspective of outsiders — that we are capable of insightful, unbiased treatment of outsiders, people different than us, that they do not see the wealth of compassion and empathy we have."
FitzMaurice said Seid understands there is no way he can restore the friends and family for the harm he has done, but he called upon Seid to have Mrs. Burkenbine as part of his life, to remember her "every time you want to give up, every time you're feeling down for your circumstances that you owe it to Mrs. Burkenbine's family to be a better man than you are today and a better man in the future."