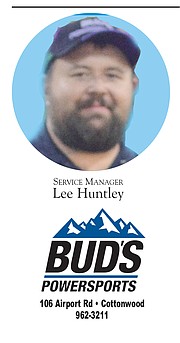 With winter finally giving way to spring, now is a good time to consider what all needs to be done to get your side-by-side ready to roll.
"It is that time of year again to get your toys out for spring," Bud's PowerSports service manager Lee Huntley said. "A little preventative maintenance can save you a lot of money in the long run."
Make sure to change engine oil and check brake fluid, radiator coolant and transmission fluid.
"That includes fresh fuel," Huntley said. "Also change or service your air filter and spark plugs, and check for proper air pressure in your tires. It's critical for the benefit of your machine to check and make sure CV boots are tight and not torn."
Inspect your brakes, check front and rear differentials, and look for any loose or worn parts in your suspension. There are belts and cables to check, and for chain-drive ATVs, spring is a good time to check it for slack and adjust it as recommended in the owner's manual.
There are all kinds of nuts and bolts to check, too. Axle nuts, lug nuts, pivot bolts, sprocket bolts, skid plate bolts and wheel hubs shouldn't be neglected.
It's also a good time to check your ATV, UTV, motorbike, and lawn maintenance equipment.
Contact Bud's PowerSports at 208-962-3211, see budspowersports.com or visit the shop, one mile south of Cottonwood on US 95.