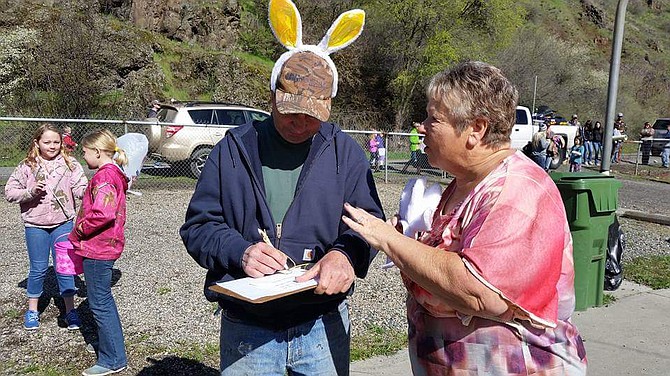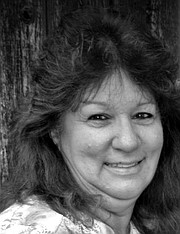 Clean up
WHITE BIRD – The parks' yard clean-up and tree trimming were completed. The weeds were sprayed and the grass was owed and fertilized. Thanks to everyone who helped.
The yoga classes have started in the East room of the White Bird Area Recreation District building. Each class will be Mondays and Wednesdays. The instructor is Mariah Crump. Contact Nicole Lowe at 838-2234 for details.
WHITE BIRD — I hope everyone had a nice Easter and found lots of things to do outdoors as Mother Nature sure decided to let us take advantage of the nice weather. Although it may not have been really warm, it wasn't raining or snowing!!
The Easter hunt went really well with more than 115 children. Winners are listed in the five different age groups, listed by prize, youngest to oldest: Most Eggs: Azelia Rhoades, Kaden Pollan, Hoyt (no last name), Orrin Farmer, Parker Farmer. 2nd Most Eggs: Baylee McColloch, Zaden Warden, Grace(no last name), Pypper Hagen, Kaycen Sickels. Golden Eggs: Nyssa Symons, Olivia Salisbury, Paco Rojas, Leighton Loder, Maria Trankle, August Trankle, Loen Brumley, Lucas Burer, Bryson Robinett, Trinlon Wren. The winner of the adult raffle was Ashley Poxleitner. The Farmers would like to thank everyone who helped in any way and to the community for the support of the young ones.
Jet Boat races was another success with Ryan Rogers of the "Pure Insanity" boat the 2017 winner, Great job to all the racers, it was very entertaining.
It's the end of the month and so we will be welcoming May – oh where, or where did the months go? Remember that the food pickup will be on May 4 and on the 30th, the WBARD Breakfast will be held.
Then on May 1 is the Deer Creek Highway meeting at 7 p.m., Library meeting will be held at 10 a.m.on the 2nd.
Pat would like to let everyone know the antique store is now open Thursdays through Saturdays, 11 a.m- 4 p.m. You can also call for appointments at 839-2619. If you should have anything that you think they may want to buy from you, Pat says "always buying items."
I now have a little more on the Buck Horn Place. This is located in the Twin River Subdivision, about one mile up from Hammer Creek Campground on private property. Tucked away in a canyon with beautiful views and abundance of wildlife, it is very laid back. You can rent this large house, completely furnished to be your home away from home. There is an event room that can handle 35-40 people so it can be used for receptions, class reunions or hunting if you prefer. You can enjoy the whole Idaho experience by calling Pat or Bruce at 839-2825.
May 6th will be the Kenny Ruttman memorial at the IOOF Hall beginning at 1 p.m. He didn't want a funeral, but a celebration of life. Potluck afterwards with several friends and family furnishing the meat, so please bring a covered dish, potluck style, and your stories to share with us.
Everyone is starting to gear up for White Bird Days, the chamber has a lot on their plate and also wants to remind venders that if you are wanting to set up downtown, you will have to go through the city to get the vender permit. The rodeo has their raffle tickets out and can be purchased at the Canyon House, Silver Dollar Bar, The General Store, any rodeo member or your rodeo queen, Cassie Chandler. They also are selling 16-ounce insulated tumblers for $10 and all proceeds go toward the maintance of the grounds. This is open to the public all year long, so help them with the upkeep.
Melvin and Carol Cash were chosen as the grand marshals and are wanting to ride in a horse-drawn buggy or wagon for the weekend. They are putting the word out that if you know of anyone with a team to let them know.
Birthdays for the end of the month are: Lars Jensen, Gabriel Rhoades, Willis Claar, Pat Wilt, Buck Fitch, Ty McClanahan, Cariol Dobbs, Shane Poxleitner, Matt Prewett, Alfred Holden, Brandy Trivett, Bill Johnson, Bert Tumelson, Ty Minter, Vicki McNevin, Aras Holden, Samuel Dalgleish, Hank Palmquist, and Gabe Duncan. In memory of Bonnie O'Farrell.
Anniversery wishes go out to Dick and Susie Brust, Monty and Toni Baker, Ally and Dylan Roemer, Brad and Hillary Minter, Larry and Noelia Zbinden, and Charlie and Kathy Stefani.
Tidbits: Since White Bird Days are fast approaching, I am looking for information on how it got started, who were the first people to participate in the parades, rodeo and any little information that can be had. E-mail, toni_wbrodeo@yahoo.com with some of your stories or favorite memory of the event.