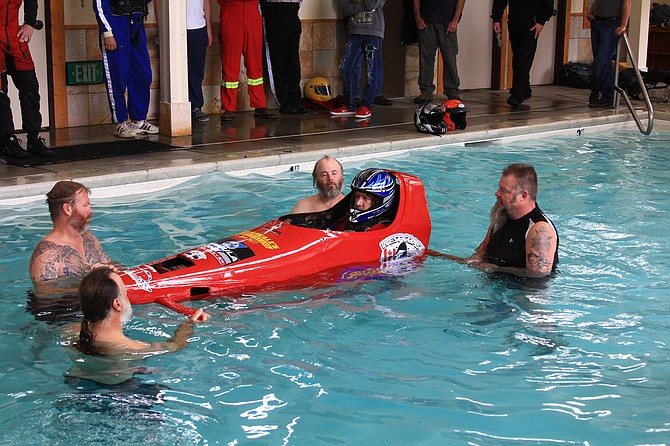 Contributed photo / Frank Mignerey
Capsule training Salmon River Jet Boat race participants underwent before the races last weekend came in handy after an accident had one driver-navigator team scrambling to avoid being swept under. Pictured is the certification session participants underwent before the race.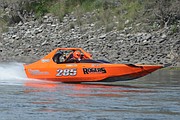 Salmon River Jet Boat Race director Kim Friend returned to the event after a few years away from it, and had high praises for those who helped sustain it during the interim.
"Janeen Eggebrecht is just a really hard person to say no to," Friend said of her decision to return to the organization after moving to Montana in 2014. Dwain Longfellow had been director the last few years, and Walt Lindsay was director last year. Longfellow "just couldn't make it this year, so they asked me early on if I could take his place and I said sure," Friend said.
The event, which coincided with Easter Sunday because of inflexibility in the permit under which the race operates, saw a smaller turnout than has been typical since 2003, when Friend, and her then-husband Rich, jumped into helping run the event.
"It felt like the races were kind of going away at that time," she said. "At the time, the races went from White Bird up to Lucile and back. We knew we needed to do something different because it didn't seem to bring a lot of people to town. My husband had raced, so the town approached us and asked us to take it on. We invited racers from the north and racers from the south to sit down and talk about what they need, as racers, to make it more attractive. It's a tough river, and we asked them 'what do you think the spectators want?'"
As a result, the race moved to a short-leg format centering on Riggins. The move has made for busy days, especially on the Saturdays, for merchants and on roads around town.
Having helped revive the event, Rich Friend stepped aside in 2011. In 2012, the town and the river hosted an international competition, for which several world champions turned out. One of them, Ryan Rogers of Lewiston, has been a fixture near the top of the Riggins race standings ever since.
Friend said racers have expressed interest in whether it may be feasible to once again run a longer leg as part of a future world jet boat race, but said it would take federal regulators "at least" two years to approve a run up and down to White Bird.
Getting a federal permit wouldn't be the only potential obstacle to bringing back the longer runs, and Friend said Friday night she "doesn't see it happening."
But she has helped see other races through preliminary steps.
"We brought St. Maries their first race and we brought back Thunder On The Snake after a 25-year hiatus," Friend said of that 2012 World Jet Boat Marathon Championship. "We did some really good things by trying to extend the circuit. It's about keeping access open to these resources. We all feel very strongly if we're responsible users of the rivers, we can keep them open."
From that interest has followed adoption of a safety measure this year – which proved valuable almost immediately. When a boat crashed and sank in front of a thick crowd of onlookers near the Time Zone Bridge during the fifth leg last Saturday, April 15, the drivers had two useful measures in place: one that helped everyone escape without injury and another that kept the boat from dropping to the river bottom. With foam installed in the nose of the boat to give it buoyancy, the driver and navigator were able to hold on to it while rescuers called the "Red Flag" halt and motored upstream to the crash site.
It immediately reaped the reward of the capsule training for which 27 participants had been certified the Friday before the race to meet a new requirement of the APBA.
Rogers had posted the fastest single leg of the race – an eight-mile downstream run in four minutes, 39 seconds – earlier during the fifth leg. That, combined with upstream runs about a minute-per-leg faster than the closest competition, put Rogers in first place overall.
2017 Salmon River Jet Boat Races
April 15-16
Final standings and results
Unlimited Class: 1. Ryan Rogers 50:09. 2. Jeff Edwardsen 1:04:26. 3. Ross Schlotthauer 1:07:05.
CX CLASS: 1. Jake Barney 59:13. 2. Barry Fenton (Canada) 1:02:17.
FX CLASS: 1. Chuck Thompson 1:04:18. 2. Shay White 1:08:20. 3. Adam Steffes 1:09:59.
(This post has been updated to correct the date of the capsule training, which took place on the Friday before the race. We regret the error. -ao)