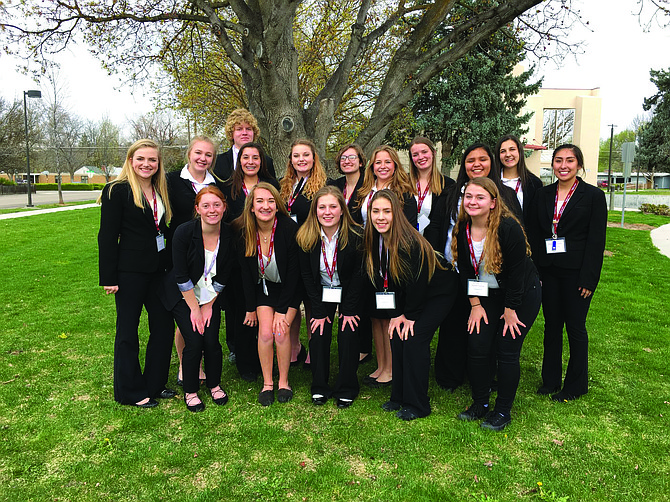 Gospel hymn sing set at Stites April 30
STITES – A Fifth Sunday gospel hymn sing is set for Stites at the Gospel Lighthouse Church Sunday, April 30, 5:30 p.m. All are invited. Call 926-4766 with questions.
GEMS concert is this Thursday night
GRANGEVILLE – Grangeville Elementary Middle School kindergarten through fifth grade students will hold their spring concert this Thursday, April 27: K-first will perform "Lemonade!" at 6 p.m. Second and third will present "Wackadoo Zoo" at 6:30 p.m. and fourth-fifth will be presenting "Recorder Revolutions" at 7 p.m. The students are under the direction of music teacher Carla Astle.
Celebrity riders to visit Kooskia May 14 on Kyle Petty Charity Ride
KOOSKIA – NASCAR's Kyle Petty will bring his 23rd anniversary Kyle Petty Charity Ride Across America to Kooskia on Sunday, May 14. The public is invited to greet and meet with riders, set to be at the Old Opera House on Main Street, at 12:20 p.m.; fans are encouraged to arrive by 12:05 p.m.
Those planning to be in attendance include racing and other celebrities Kyle Petty, Hershel McGriff, Harry Gant, Donnie Allison, Herschel Walker and George Rogers.
Information is available at www.kylepettycharityride.com .
Nez Perce Trail program set for April 29
KOOSKIA — Kooskia Community Library will present Dennis Baird, professor emeritus at University of Idaho, author, research librarian and conservationist to share his knowledge of the southern route of the Nez Perce Trail, known by the Nez Perce as "Wise'isskit." This is set for Saturday, April 29, 1 p.m., at the Kooskia Community Center.
Messenger makes OSU winter term honor roll
CORVALLIS, Ore. – Erik A. Messenger of Kamiah has made the Oregon State University scholastic honor roll for winter term. Messenger is a freshman studying preconstruction engineering management.
 A total of 1,241 students earned straight-As (4.0). Another 4,481 earned a B-plus (3.5) or better to make the listing. To be on the Honor Roll, students must carry at least 12 graded hours of course work.
Get tickets for National Day of Prayer event
GRANGEVILLE – A National Day of Prayer Luncheon is set for Thursday, May 4, noon to 1 p.m., at the Veteran Outreach and Community Center in Grangeville. The theme is "For Your Great Name's Sake: Emmanuel: God is with us."
Tickets are $10 each and the speaker will be Representative Priscilla Giddings. All city and county leaders are invited. Seating is limited, so reserve tickets early. Day of event tickets will be $12 apiece.
For details call Parson Rayphe at 855-505-0020 or go to www.IdahoPrayer.Com.
County orchestra seeks new members
Do you play a stringed (or other C) instrument? The Idaho County Orchestra is looking for new members. They rehearse Thursdays at 7 p.m., at the Grangeville Church of the Nazarene, 515 W. N. 2nd Street.
'Notes and Floats' set for this weekend
GRANGEVILLE – A musical variety show "Notes and Floats" will be held at the Grangeville Church of the Nazarene Saturday, April 29, 7 p.m.
The evening will feature a variety of local talent including the Grangeville High School Jazz Band directed by Phillip Golde, Marissa and Olivia Kennedy, Danny Schwartz, Makenna York and the Cornerstone Kids.
A choice of desserts will be served following the program, including ice-cream floats. A silent pie auction will also be held.
Children 4 and younger are free while the suggested donation for others is $10 apiece. All donations will benefit the Cornerstone Christian Learning Center. The church school recently received permission from the Grangeville City Council to add more grades to its school. It currently has preschool and kindergarten and hopes to add first and second grade by the 2017-18 school year.
Spring Fling raffle event drawing April 26
GRANGEVILLE – Camas Prairie Preschool is holding its Spring Fling raffle event. Tickets are five for $10 or $2 each; and 50/50 tickets are five for $20 or $5 each. Winners will be drawn on April 26.
For a list of prizes and sponsors, go online: www.camasprairiepreschool.com/fundraisers.html .
Purchase tickets by calling Shannon, 691-9577; Liz, 451-4296; or Ashley, 954-6865.
Encouragers group canceled for May
GRANGEVILLE — Encouragers Thursday, May 4, meeting will be cancelled and those who wish are invited to participate in a local National Day of Prayer meeting scheduled at the Veterans Center on Main Street in Grangeville. Encouragers will meet on Thursday, June 1, at Oscar's at 11:30 a.m. for a no-host luncheon. State representative Priscilla Giddings will speak.
Opera House benefit concert set for April 28
KOOSKIA – Josh Crosby and Misty Dawn Taylor will be in concert Friday, April 28, at Clearwater Valley High School in Kooskia at 7 p.m.
This will also feature the talents of locals Phillip Golde, Liz Nuxoll and the Jonny Schuster, as well as the "Stars of Tomorrow" preshow.
Tickets are $8 for adults and $4 for those 12 and younger. Proceeds will go toward the purchase of the Old Opera House Theatre/Community Center.
All musicians, artists, entertainers and artisans who wish to join the Old Opera House Cultural Committee call Gloria Taylor at 983-0314.
Cinco de Mayo celebration is May 5
GRANGEVILLE – A Cinco de Mayo celebration is set for Friday, May 5, 5 to 8 p.m., at the Eagles Hall in Grangeville. The night will benefit the Chet and Ruth Prall Eagles No. 539 Scholarship Fund.
Dinner will be by Yolanda Stout. Advance tickets are $8 for adults, $5 for children 12 and younger (or $10 and $6, respectively, at the door). Get tickets by calling Yolanda Stout at 451-5531 or Nita Musick at 983-7770.
American Legion meeting set for May 3
GRANGEVILLE — Grangeville American Legion Post 37 will have its meeting Wednesday, May 3, 7 p.m., at the Idaho National Guard Armory. New officers will be installed and plans for Memorial Day events will be discussed.
Call new adjutant Don Owen at 983-1191.
Historic presentation on tap for Methodist church
GRANGEVILLE – United Methodist Church historian Dave Hammond will host a historical display at the church on Main Street (across from Asker's) Saturday, May 13, 9:30 a.m. to 2 p.m.
There is no charge for the presentation and the public is encouraged to attend.
Clearwater Meal Center luncheon set for May 3
CLEARWATER – The Clearwater Meal Center's next luncheon is set for Wednesday, May 3, noon.
Meals are served the first and third Wednesdays of each month at the Clearwater Baptist Church. No charge for the luncheon, $5 donation appreciated when possible. All are welcome. Call 926-7776.