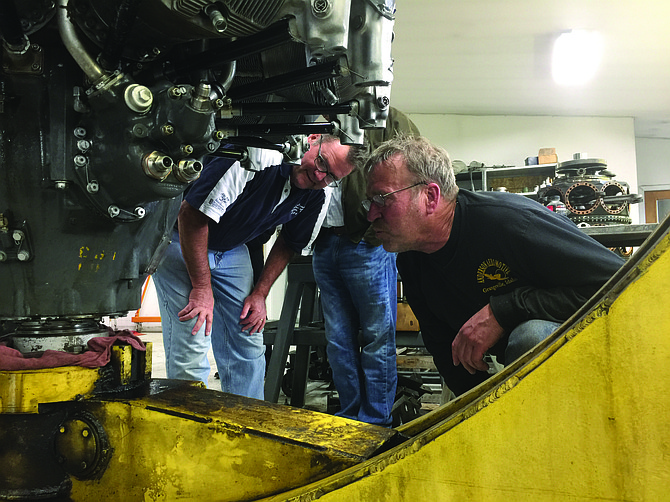 Photo by Andrew Ottoson
Lions Eye View Anderson Aeromotive owner-operator Ray Anderson (right) showed 14 members of the Grangeville Lions Club around Thursday, April 6. Pictured, Lion Greg Stone listens as Anderson describes the working of an airplane engine his shop is now servicing. Free Press photo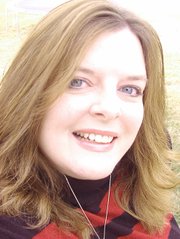 Mark your calendars for Thursday, May 18. Idaho Public Television will air its Outdoor Idaho program called "Almost Canada." This features Northern Idaho and should be of interest to locals!
•
On Friday, April 28, the Idaho County District Court Office will be closed from 1-3 p.m. for staff training.
•
Syringa Hospital & Clinics' annual free Health Fair normally held at the Grangeville High School mid-May, is being moved to this coming fall with an exact date to be determined. When planning is complete, information will be posted on Syringa's web site www.syringahospital.org, Facebook page, and right here in the Idaho County Free Press!
•
A community-wide presentation on the new children's mental health system of care, Youth Empowerment Services or YES, is set for Tuesday, May 2, 6 to 7:30 p.m., at the Soltman Center in Grangeville. Attend this event to find out what this means for Idaho County.
•
Remember, even if you don't owe income taxes, you're still required by law to file an individual income tax return if you meet Idaho's filing requirements. Visit the Idaho State Tax Commission's website at tax.idaho.gov to see if you're required to file.
•
Lewis-Clark State College Grangeville Outreach is offering Herbal Salves and Tonics at the Monastery of St. Gertrude in Cottonwood Saturday, May 6. Sisters Agnes and Carlotta will instruct the course which costs $45 and is set for 9:30 a.m. to 2:30 p.m. Lunch is included. Call coordinator Carla Nuxoll Wilkins at 983-2164 or e-mail cnwilkins@lcsc.ed.
•
Did you know in the United States in 2016, there were 658 million vacation days that were unused? Wow. What a waste.