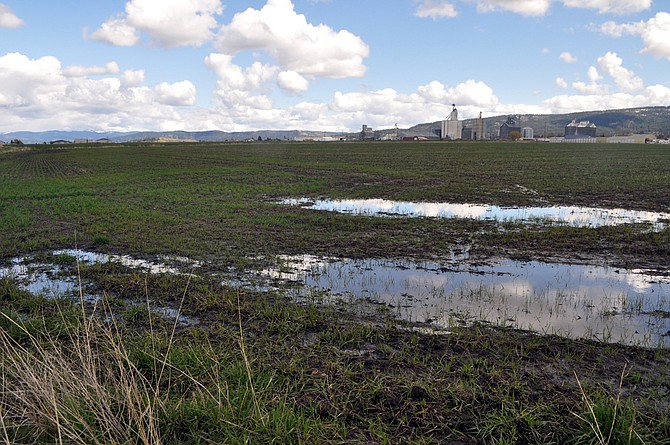 Photo by David Rauzi
View looking east across acreage donated to the city, located between the Idaho County Airport and the truck route.
GRANGEVILLE — The city of Grangeville literally grew overnight, thanks to a land gift from a Montana businessman.
At its April 17 meeting, the city council approved unanimously to accept 94 acres of undeveloped ground located between the Idaho County Airport and the truck route, which stretches east from Day Road and includes Clearwater Road that runs adjacent to – but does not include in this donation — the Nez Perce-Clearwater National Forests Office property. The gift comes from Grangeville Investments LLC, owned by Brad Mildenberger of Hamilton.
"We believe the City of Grangeville would be best suited for this donation," stated Mildenberger in an April 5 letter suggesting the land offer for council consideration. "It would create a north south corridor and also allow for growth and future taxation to benefit the city as well as the people of Grangeville and surrounding area."
Contacted about the donation, Mildenberger held on commenting further until the deal, which includes completing title transfer, is finalized. According to Mayor Bruce Walker, hopefully that would be completed within 60 days.
No strings regarding land use were placed on the deal, apart from the LLC being indemnified from expenditures on the east side of Clearwater Road that include roads, curbs and sidewalks.
The property is currently assessed as farm ground, and the Idaho County Assessor's Office estimates taxes on the section gifted to the city to be less than $400 annually.
According to Mayor Walker, he had been in discussion with Mildenberger regarding this land gift for more than a year, the deal for which climaxed just last month. With last week's council approval, Mayor Walker will send out a formal letter of acceptance this week.
"Everyone has 100 ideas on what to do with it," Walker said, but at present the city has no plans as to what to do with the property. For his opinion, he said, "The city is not in any financial position other than to, hopefully, sell it and get it on the tax rolls," providing potential for industrial and business development. Advantageous to this is city water and sewer utilities are in proximity and available in that event.
Estimated land value is around $500,000.
"This is all too new at the moment," he said, for any definite city direction on its intentions regarding the property.
Walker expects the city to pursue annexation, which, if so, it would be zoned industrial, which he said could open it up to most any type of development. With no plans in place, Walker expects to continue leasing the property for agriculture use, revenue from which would now go to the city.
Inclusion of this land into the city isn't expected to put demand on public works department crews, according to director Jeff McFrederick. As use plans are all up in the air, a possible option he said could be an acre-portion dedicated for a new city well. Since 1993, the city has discussed the need for a new well, he said, to benefit water production. Of the five currently in operation, two are "big producers" at around 1,000 gallons a minute, with the remaining three used more to supplement production.