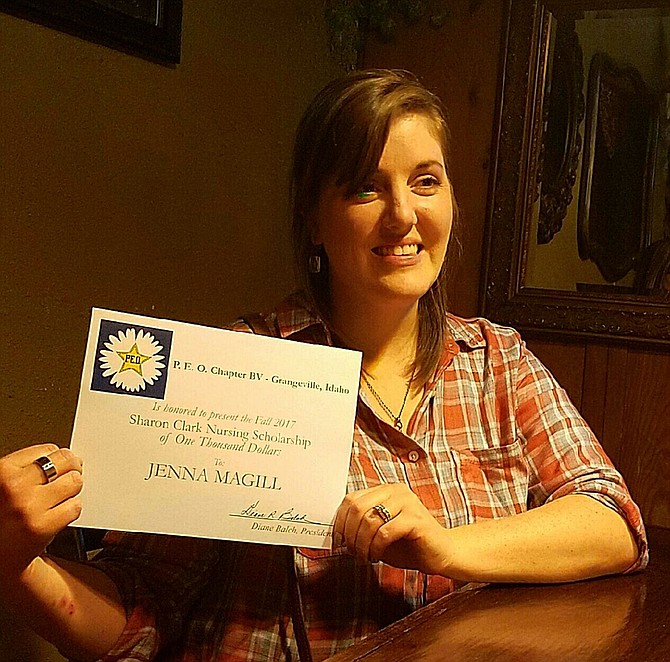 PEO Chapter BV, Grangeville
GRANGEVILLE — Jenna Magill of Grangeville was recently presented with this year's $1,000 Sharon Clark Nursing Scholarship by PE0 Chapter BV. In June, Magill will begin her program to become a RN at Walla Walla Community College. She is currently working as a CNA at Syringa Hospital while her husband is serving in the military.
Sharon Rupe Clark graduated from Grangeville High School in the 1953. Receiving a scholarship from the Soroptimists helped her complete her nursing degree. She said giving the scholarship to a nursing student is her way of paying forward. She lives in LaFayette, Calif., but still considers Grangeville home.
PEO's focus is to provide educational opportunities to women.
Pioneer Senior Citizens
Agnes Forsman opened the April 18 meeting of the Pioneer Senior Citizens with the Pledge of Allegiance and Elred Nuxoll gave the dinner prayer. There were 58 meals served and 22 takeouts. Irene Terhaar won the free dinner. Larry Clark shared a joke with the group.
Emelia Frei won both the nickel Bingo pot and the blackout. Door prize winners were Darlene Clark, Dolores VonBargen, Anna Gehring, Sylvia Forsmann, Katie Remacle and Joanne Sonnen.
Ralph Sprute turned 90 on April 23rd.
Seniors wanting to go to Lewiston to shop or doctor's appointments and don't want to drive, call Coast driver Katie Manifold at 208-456-4090.
Come join us for a meal every Tuesday for a small donation at the Pioneer Senior Center in the Cottonwood Community Hall basement. Meals are served at noon.
Menu for May 2: Black Beans & Rice, Fresh Salsa/Sour Cream, Roasted Veggies, Chocolate Prune Cake, Fresh Strawberries. To order meals delivered, call City Hall at 962-3231.
Grangeville Senior Citizens
April 17 – pledge, Stanley Modrell; prayer, Shirley Crane; free dinner, Frankie Sibley; meals at site: 94 with 27 home-deliveries.
April 21 – pledge, Stanley Modrell; prayer, Barbara Essen; free dinner, Nina Stromberg; meals at site: 104 with 33 hot and 58 frozen home-deliveries; pinochle: 1, Eileen Hazelbaker 6570, 2, Dolores Kindall 6310.
Menu: April 28 – oven-fried chicken, mashed potatoes, corn, broccoli, carrot and celery sticks, peaches; May 1 – tuna noodle bake, broccoli, carrifruit salad.
More like this story