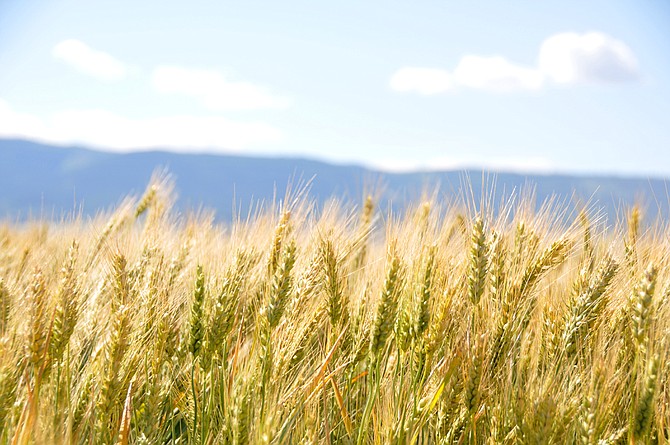 Photo by Laurie Chapman
A field of wheat waits for harvest just northwest of Grangeville east of Powerline Road.
The Idaho County Commission declared an agricultural disaster during the July 25 meeting "due to unusual and excessive spring moisture conditions, which have prevented the planting of approximately 31,432 acres of spring crops, specifically 28,064 acres of spring wheat, spring canola, large garbanzo beans and green peas."
"Additional planted acreage was planted late due to soil moisture conditions, which has further exacerbated crop production losses," the commission's letter to Gov. Butch Otter reads. The letter included a copy of county resolution No. 2017-4, which notes "the wet, cold conditions, soil saturation and standing water in fields resulted in crop yield losses of as much as 70-80 percent as compared to a normal year."
The disaster declaration is a formal way of asking the governor to support a request for federal loans through the U.S. Department of Agriculture to be made available for local producers who may have been hurt by bad weather.
The commission's letter included a copy of one from the Idaho County FSA office, which pointed to the result of the July 25 meeting of the USDA Idaho County Emergency Board. The emergency board chairwoman, Julie Fowler, presented the statistical information.
"We haven't had something like this happen since 2011, where so much acreage went unplanted," Fowler told the Free Press Wednesday, July 26.
One of the eight emergency board members, Columbia Grain manager Brian Lorentz, was surprised at the amount of spring wheat planted – 2,310 acres.
"I thought it was considerably less than that based on seed sales," Lorentz told the Free Press July 26.
Idaho County Commissioner Mark Frei, who is also a member of the emergency board, indicated fall canola was wiped out in low-lying areas, and producer Kevin Dahler, who is FSA County Committee chairman, noted water was standing on fields two days before the final plant date for wheat.
Lorentz also told the emergency board garbanzo beans and barley may be forced into steep discounts if they do not meet contract requirements.
Last year's was a brutal winter for producers in many parts of the state.
Governor's office spokesman Jon Hanian told the Free Press they will treat the county's disaster declaration "favorably and expeditiously" alongside 16 others, including, most recently, Clearwater County. The following sought disaster declarations late last year and were approved in May: Bingham, Blaine, Bonneville, Butte, Cassia, Clark, Fremont, Jefferson, Jerome, Lincoln, Madison, Oneida, Power and Twin Falls.
"Canyon, Ada, Washington and Owyhee counties are missing despite suffering huge losses this winter," Hanian explained. "That's because their losses were infrastructure related rather than crops. USDA Secretarial Disaster declarations only apply to crop losses."