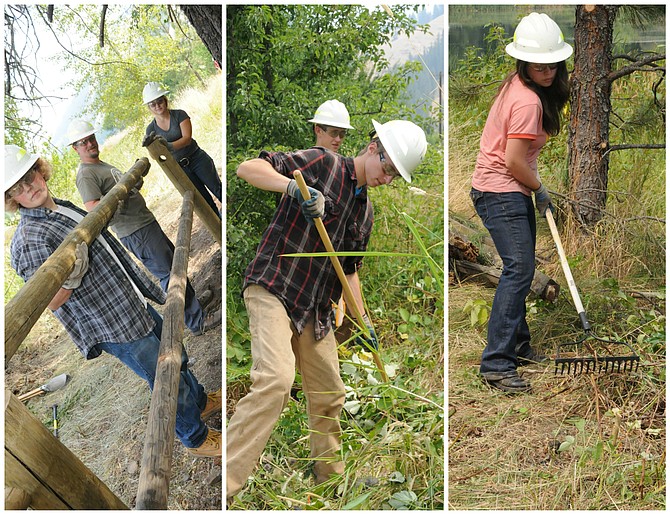 Photo by Lorie Palmer
Clearwater Basin Youth Conservation Corps crew members work on a fencing project near the Kooskia Fish Hatchery July 26. Pictured (L-R) are Riley Doering, crew leader Nat Davis, Harmony Edmondson, Jarret Nuxoll, Aaron Lahman and Angelina Baumgartner.
KOOSKIA — "I hear about other people not wanting to go to their jobs and I literally get up every morning and cannot wait to go to my job," said 17-year-old Clearwater Valley High School senior Harmony Edmondson. "I love this job."
Edmondson is one of 33 youth employed this summer with The Clearwater Basin Youth Conservation Corps (CBYCC). She was one of five students on a crew under leader Nat Davis of Kooskia who was was working on fencing for the Kooskia Fish Hatchery July 26.
CBYCC is a partnership effort between the Clearwater Basin Collaborative, Clearwater RC&D, the USDA Forest Service, U.S Corps of Engineers, USDI Bureau of Land Management, National Park Service, Idaho Department of Lands, Idaho Division of Vocational Rehabilitation, Idaho Department of Labor, Idaho Firewise, Idaho County, Framing Our Community, and other local communities and organizations.
The program was piloted in 2013 and has been growing every year to include new crews, geographic areas and partners. For 2017, the program employed five full crews: two in Kamiah/Kooskia, and one each in Grangeville, Orofino and Pierce. Each crew is comprised of a youth between the ages of 16-18, and one crew leader. Two youth were also added this year to the Selway-Bitterroot Wilderness trail crews and one frontline office staff at the Nez Perce-Clearwater National Forests' Supervisor's Office for a total of 33 employed for eight weeks this summer.
The mission of the CBYCC is to expose youth to natural resource career opportunities and facilitate development of practical problem-solving skills while participants work alongside program and technical specialists on projects that restore aquatic and terrestrial habitat and promote healthy rural communities. The CBYCC is a paid youth program offering local youth an opportunity to experience the outdoors in a work-place setting while also providing a fun learning environment and exposure to traditional skills.
Kamiah senior Riley Doering, 17, agreed with Edmondson.
"This has been a lot more than I thought it would be. I have been able to see a lot of Idaho and see what opportunities are out here in my own area," he said.
CBYCC info:
The CBYCC provides all training, personal protective gear, basic tools, and transportation for the crews as well as all supervision and management. Information about the CBYCC is available at http://clearwaterbasincollaborative.org/cbycc/ or on Facebook at https://www.facebook.com/IdahoCBYCC/. Crews began work on June 12 and will complete final projects Aug. 3.
Additional projects included fisheries and stream work in Elk City and Kooskia, fencing and trail clearing projects at Slate Creek and the White Bird Battlefield, as well as campground maintenance, sign and trail work.
The two said they have discovered a lot about the history of the region as well as learned about the availability of jobs they did not previously know existed.
Each crew has worked on a variety of projects including those that focus on silviculture, wildlife and fisheries, facilities maintenance, recreation, fuels reduction, trail development, weed management, stream restoration, and protection of heritage and other high conservation value sites. The intent is that work projects provide a valuable experience for the crew, but also accomplish a productive task for the sponsoring partner.
"My parents said I needed a job," Doering smiled. "I wanted to be in the woods – this has been a really good choice."
Doering and Edmondson were digging holes and putting up new fence posts with Davis as other members of the crew were removing old fencing, brush and bramble.
"I think this really does help them see there are a lot of different options out there," Davis said. He has been with the youth corps for the past five years and said he feels privileged to do the work he does.
Davis was quick to say his crew "works very hard."
"They get a lot done, and a lot quicker than expected," he praised them.
Angelina Baumgartner, 16, a junior at CVHS, said she has fun with the job and has also gotten in much better shape.
"Climbing hills, walking trails – it's all a lot easier now toward the end of the summer than at the beginning," she said, raking brush into a pile.
Her favorite part of the summer so far, she said, was the fire defense work in Orofino where the crew helped with defensible space for homeowners.
Edmondson said one of the most interesting projects to her was bio control.
"We released weavils to eat Yellow Starthistle," she explained. "That is just so interesting to me."
Jarret Nuxoll, 16, also a CV junior, said he has been most interested in expanding his leadership skills through the program.
"To see how we collaborate with other agencies and work together has been great; actually more than I expected," he said. "We learn so much — we switch gears and move on to something else; no time to get bored."
He also said he enjoys the fact his generation has the technology expertise to pick up things quickly, such as GPS skills.
Sixteen-year old CV junior Aaron Lahman agreed.
"Exploring the area, GPS and mapping have all been interesting," he said.
The crew focused on two days of training before heading out into the field to work, which included CPR training and certification.
The group has worked four 10-hour days, so they said they have still had time for a social life or to do other home chores, but all admit they are pretty tired come Thursday nights.
"We have a really good work ethic and people see that and appreciate what we do," Nuxoll said. "That's a good feeling."