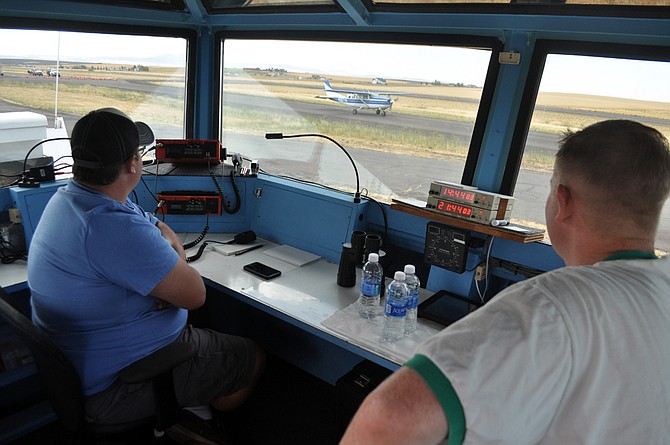 Photo by David Rauzi
Air traffic controllers (L-R) Michael Wise and Chris Sloan, both of Boise, watch an airplane taxi for takeoff from the FAA temporary tower at the Idaho County Airport last Friday, July 28.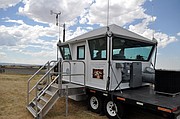 GRANGEVILLE — You won't have to crane your neck to check out this tower.
At around eight feet tall, this FAA (Federal Aviation Administration) temporary tower sits atop a flatbed trailer, parked at the east end of the Idaho County Airport. Manned by three air traffic controllers from 8 a.m. to 8 p.m., the tower was brought in last Tuesday, July 25, to provide for safe aircraft operation of public and private aircraft during this busy season. It is a collaborative effort between the Forest Service and Idaho County.
"It was ordered in anticipation of increased activity from firefighting, and to take into account the ongoing taxiway closure for construction work," said airport manager Mike Cook.
Currently, firefighting flights are primarily to suppress new fire starts, according to Jeannette Dreadfulwater, resource assistant for the Nez Perce-Clearwater National Forests. Flights were also made to support the Craig Mountain Complex. The number of daily flights varies, depending on current fire activity, though last Friday and Saturday the tower recorded 13 and 16 flights, respectively.
According to the FAA, a temporary tower is brought in by request to facilities or locations expecting above normal air traffic, or to support airports where existing towers are out of service due to a disaster. Controllers provide service to arriving and departing flights, as well as to ground traffic on the airport.
Normally, the Idaho County Airport utilizes UNICOM (universal communications), used at facilities with low aircraft traffic and where no control tower is active.
This particular temporary tower came out of Boise, staffed by paid volunteers Michael Wise and Chris Sloan, both from Boise, and Allen Franklin, from Boeing Field in the Seattle area.
Its overall purpose is to provide for safe operations for the Forest Service and the Grangeville airport, according to Franklin, for both firefighting and other facility traffic.
"We like to do this. It takes you away from the day-to-day routine," Franklin said. It's an opportunity to visit places and communities they might experience otherwise, he said. "And we like to work with the forestry department because they provide a useful service."
The last time a temporary tower was brought into the Idaho County Airport was during the 2015 wildfire season, which saw the region's worst structure losses – around 75-plus — during that August's Kamiah area fires.