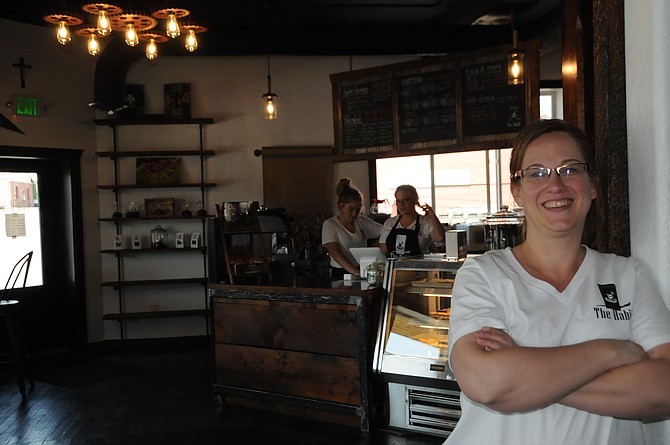 Photo by Lorie Palmer
Laurie Chapman is manager of The Habit coffee and gift shop in Cottonwood.
COTTONWOOD — Coffee anyone? Cottonwood has a new hangout and place to get a caffeine fix.
The Habit opened recently at 406 King Street, across from The Tire Guy. The business is owned by Ryan and Heather Uhlenkott and managed by Laurie Chapman.
However, the business is more than a coffee joint.
"An artist gallery was always a dream of mine," said Chapman, who is an artist, and whose husband, Shane is the art teacher at Prairie Junior Senior High School. "I knew it would have to be more than a gallery, though, in order to make it financially solvent, and when I was talking to Ryan, the pieces just began to fall into place."
A remodeling of the space next to Riener's Grocery allowed for a spacious area for meetings, homework, relaxing, visiting and, of course, enjoying beverages.
The Habit offers a wide variety of coffees, teas, Italian sodas and other beverages. In addition, a variety of pastries are available, made by The Hearthstone Bakery in Kamiah.
"We want this to be a place where people come in and feel comfortable," Chapman said.
Several artists' works are currently for sale at The Habit, including hand-made purses, wooden crosses, alpaca wool items, photography prints and paintings.
"In the future, Shane and I would like to offer art workshops for children and adults," she explained.
The whole business is a nod to the Camas Prairie – from using locally made goodies and selling area artists' works to the barn wood inside from an old barn in Ferdinand and the specialty drinks including The Prairie Pirate, Flying Nun and Big Dog.
"This is a community meeting place, and we want everyone to know we appreciate our community," Chapman emphasized.
The Habit currently employs five people – Chapman and four baristas. It is open Monday through Friday, 6:30 a.m. to 5 p.m., and Saturdays, 7:30 a.m. to 2 p.m., closed on Sundays. Call 507-2745 to pre-order with outdoor by-the-door pickup available. There is limited parking in front with a large lot in back. Comfortable seating – tables, straight chairs, couches and leather chairs — and free WiFi are also offered.