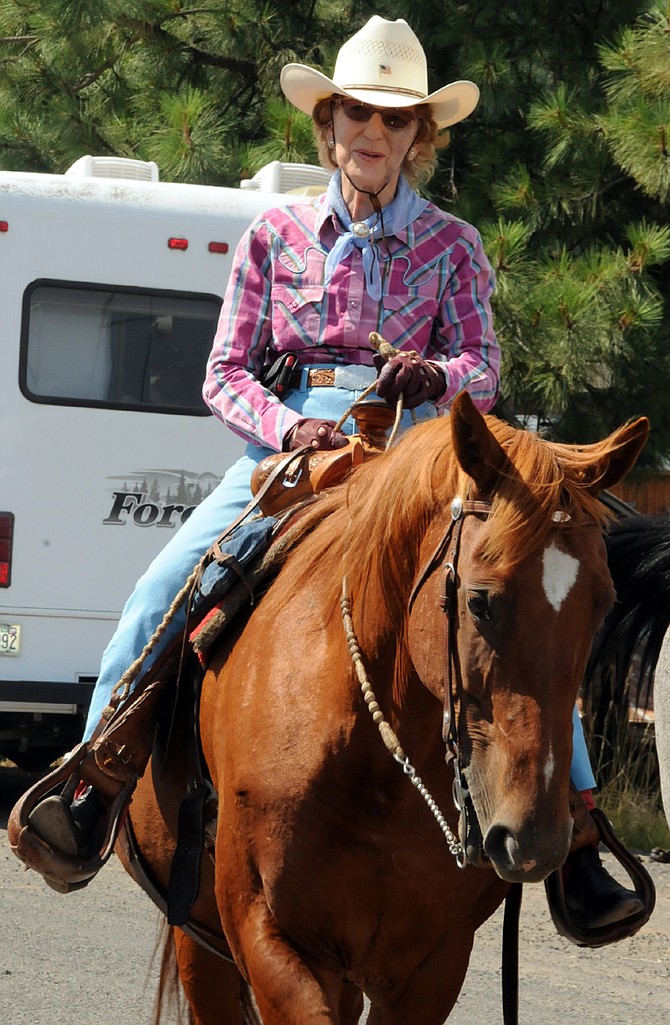 Photo by Lorie Palmer
This year's Kooskia Days parade will be led by grand marshal Lauretta Crabtree of Battle Ridge. She is pictured at Elk City Wagon Road Days in Clearwater last month.
Crabtree to lead parade
BATTLE RIDGE –Leading the Kooskia Days parade this year will be grand marshal Lauretta Crabtree of Battle Ridge.
Crabtree, 91, recently rode her horse as the grand marshal in the Elk City Wagon Road Days parade.
She taught art at school at Clearwater Valley schools in Kooskia after moving to the area in 1961, until her retirement in 1989. She and her husband, Gordon, raised registered Polled Hereford cattle, as well as Clydesdales and Arabian horses. He worked the Clydesdales and they rode the Arabians to work the cattle. They had three sons — Carl, Larry and Ray who worked on the ranch until leaving for college and careers. While in school, the boys were in 4-H and she was a 4-H leader for 25 years. She continued to raise cattle for 10 years after Gordon died, until selling the last of the cattle 10 years ago.
She is an active member of Kooskia Saddliers, Idaho County Cattleman, Back Country Horsemen, retired teachers, and Central Idaho Art associations.
KOOSKIA — Get ready for the 64th annual Kooskia Days events, set for this weekend, Aug. 4-6.
Vendors can set up for free on Main Street or in Kooskia City Park starting at 5 a.m. Friday, Aug. 4. Born Again Clothing Consignments will host a sale at Western Motor Inn that evening from 4-7 p.m. and the following day, 10 a.m. to 2 p.m., with all proceeds going to Clearwater Valley athletics.
The hometown co-ed softball game is set for Kooskia City Park at 6 p.m.
"Kooskia Days are always such a fun time for everyone to get together and visit," said Lara Smith, who, along with her husband, Mike, owns Western Motor Inn. The couple also coach CVHS track.
For Saturday, Aug. 5, an all-you-can eat Rebekah and Mason breakfast will be held at the IOOF Hall from 7 to 11 a.m. The fun run also starts at 7 a.m., with registration at Umpqua Bank. Call 208-926-4776; 926-4236; 935-5615; or 790-0601.
Three-on-three basketball is set to begin on 8 a.m., at Clearwater Valley Elementary School. To sign up a team, call 520-221-6070.
Show and shine registration will take place starting at 9 a.m. and running to 3 p.m. at the park. Call 451-5863.
Line-up for the Kooskia Days parade is 9 a.m. (judging at 9:45 a.m.) with the parade at 11 a.m. Call Umpqua Bank to preregister, 208-926-4236. Laurette Crabtree will serve as grand marshal.
A ping-pong ball drop at the Kooskia Airport is set for 11 a.m., followed by horseshoes at city park at noon. A kiddie carnival will start at noon at Kooskia City Hall and a variety show will be held at The Outpost at 1 p.m. (call 208-983-0314 or 208- 451-3475).
The Tahoe Quick Response Unit will host an auction at 1 p.m. at the park (call 208-935-5901 to donate) and Bingo starts at the same time.
The beer garden on Main Street will be open 3 to midnight., and a street dance featuring Josh Crosby is set for 8 to 12 p.m.
Sunday, Aug. 4, will bring clean up at 5:30 a.m. and a church service at the city park at 10 a.m. A country gospel group from Texas will perform and a softball game and barbecue will follow. Bring chairs and a dish to share.
For details on the events, visit the Greater Kooskia Chamber of Commerce on Facebook.