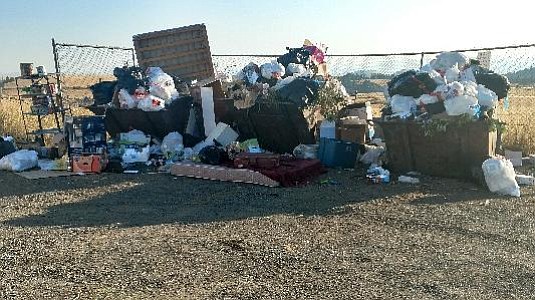 Contributed photo / Simmons Sanitation
Pictured are dumpsters on Butcher Creek Road, near the Harpster Grade Road.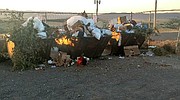 Board approves road and bridge tax hike, other expenses
For the county's upcoming fiscal year, the Idaho County Commission moved to propose funding for the Mark Lankford murder trial, for a 6.1 percent increase in medical insurance costs, for a 2 percent wage increase for the heads of most county departments to allocate to their employees, and for improving the Pine Bar boat ramp.
But by far the biggest budget decision they made during the Aug. 1 meeting was to approve a proposal to tax those in the county road and bridge jurisdiction approximately $125 per $100,000 property value in the name of partially offsetting the loss of more than $1.2 million of federal forest funds provided through the Secure Rural Schools program. The tax would raise more than $663,000 for the county road and bridge department.
The board also approved proposing approximately $102,000 in relatively small cuts to numerous budget lines.
"If everyone spent to the maximum, we'd be essentially authorizing a deficit budget," commissioner Mark Frei said. "But we don't, because the departments are responsible and don't spend to the maximum. We've been OK year after year, but I wonder if that ought to be made explicit."
Frei proposed holding a meeting of department heads to discuss the issue further early in the next fiscal year.
"I did this spreadsheet," Frei said. "It reveals that if everyone spent to the maximum of their budgets, we would be $2 million, $2.5 million in the hole."
The budget is due for publication in the Idaho County Free Press this month, and a public hearing will be held at the courthouse on Sept. 5.
GRANGEVILLE — Idaho County's solid waste contractor, Robert Simmons of Simmons Sanitation, is working with county commissioners to develop a true solid waste system, as compared to the status quo operation in which local dumpsters are open 24/7/365 for all users – and continually brimming with all types of trash, refuse and items that have outlived their usefulness.
"We're shipping out three trucks a day to Missoula right now," Simmons told the Free Press July 28. "Brush and yard waste does not have to go to Missoula, but if it did, we would have to send another truck every day or every other day. We've worked so hard to divert that waste stream. If we can't divert it, that has a detrimental effect on cost."
Simmons and other solid waste operators across the state are trying to fend off the Department of Environmental Quality's push to require them to ship brush and solid waste to tightly regulated higher-capacity facilities, such as the one in Missoula, in the name of protecting local water quality.
Simmons is also already seeing more tonnage year after year coming to the county dumpsters in the Camas Prairie, Elk City and Salmon River areas. He said his contract with the county includes a provision that would trigger if tonnage exceeds a certain threshold, which has not yet triggered. The contract also includes a cost-of-living increase tied to the Consumer Price Index, which Simmons said had worked out to 1.1 to 1.6 percent in previous years, and is 2.1 percent this year.
Keeping up with this flow of trash requires daily work.
"We service the dumpsters at all the same intervals as the previous contractor," Simmons said. "The majority of the Camas Prairie is serviced seven days a week."
But Grangeville-area dumpsters are frequently filled again soon after they are emptied.
"It's our responsibility to find a solution for that," Simmons said.
And that has the county looking for a way to pin the disposal cost more directly to the people who bring in the most trash.
Years of talk about modernization has included discussions on development of a Camas Prairie transfer station, on consolidation and enclosure of Camas Prairie dumpsters, and on construction of a new multi-county landfill near Council.
But the breakthrough – from a system in which all property owners pay the various fees, regardless of how much trash service they use, to a system in which trash service users pay fees that cover the costs involved with the trash service – is not yet in sight.
"When we took over the contract, Idaho County did not have a solid waste system," Simmons said. "It's still one of if not the very last in the state where the dumpsters are this way. … We're one of the last ones in the country to do it unchecked."
Simmons has yet to identify a candidate site for a new transfer station and it remains unclear how well the proposed multi-county landfill near Council might compare to Missoula's $28 per ton tipping fee.
While commissioners have kept money in the budget for implementing the reforms, fee payers will see their long-standing fees rise significantly compared to the structure the board established – depending on the outcome of a solid waste fee hearing slated for Sept. 5.
In 2014, the Idaho County Commissioners attached a solid waste fee to every "agricultural exempt" property in the county. The board had maintained a county resident solid waste fee of $198.72 per year since 2007, with fees in most other categories in either the same amount. The county commercial solid waste fee was exactly twice that much: $398.44 per year. The "ag exempt" fee was also set at $198.72. And while the county commission favors raising those fees across the board, to $215 per year residential and $430 commercial, their proportion of the public's whole expense will be a bit smaller.
Those who live within city limits will be picking up a bigger share.
During the July 25 meeting, the county commissioners weighed whether to raise the fees five percent – the maximum state law would allow without a public hearing – or to raise them much more.
During the Tuesday, Aug. 1 meeting, the board favored more than doubling the county's city residential solid waste fee from $13.80 to $30 per year. The fee aims to cover the cost to the county that follows from city residents using dumpsters outside city limits.
Compared to fees rural property owners pay, even the higher fee would be relatively small – but may prove controversial anyway.
"Ag exempt" property owners who say their fees pay for far more trash service than they actually use are still angry at the board for establishing the fee.
For those who own multiple pieces of property, the fees can stack up quickly.
Ray Payton and his wife, Kay, of Riggins are two of the many Idaho County seniors who pay more than one solid waste fee.
"We have 43 acres here that we bought in 1992 as undeveloped, raw land," Payton told the Free Press Thursday, July 27. "We intended to build a single-family dwelling on it, which we did two years later. … Years later, when this issue about solid waste disposal came about, the commissioners just arbitrarily decided to charge each tax account an equal amount. It came out to $198-and-some-cents each account, and we end up paying twice that."
When he wanted to borrow against it, Payton said banking rules forced the property to be split – with one parcel no bigger than 35 acres.
"The other parcel has nothing on it," Payton said. "It's raw pasture. It will never generate any garbage at all, but we have to pay $198 for it. I don't feel like that's fair."