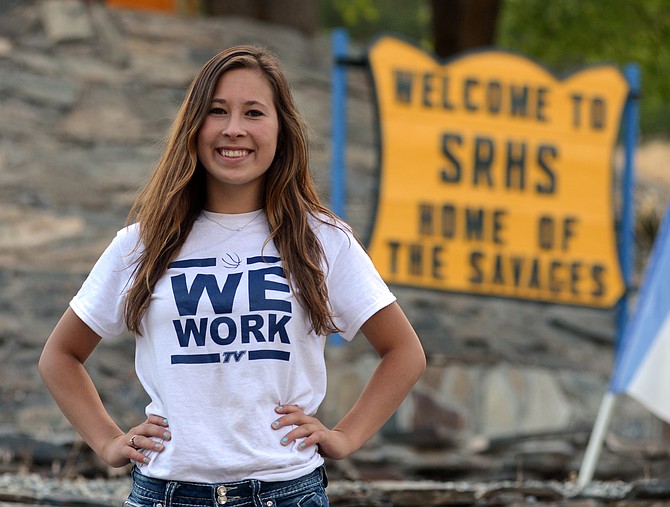 Photo by Andrew Ottoson
Salmon River graduate Maddy Tucker is heading to Treasure Valley Community College on a basketball scholarship, where she will start toward a career in medicine.
RIGGINS — Salmon River basketball standout Maddy Tucker is headed to Treasure Valley Community College this fall. It's a big step her family has helped her take.
"My mom has always been my cheerleader and in my corner there to help me, whether that's giving me constructive criticism or cheering. My dad has spent hours and hours with me, since I was like two feet tall."
Why Treasure Valley?
"I just want to play basketball," she laughed. "I've been playing since I was probably seven years old. When I'm in the game, I kind of lose my mind and I love that rush — that last-second shot, that crazy adrenaline rush you get when you're playing."
During the times she has taken the floor in a Savages uniform, she has shown a high level of awareness of her surroundings — for the other players in the game, of course, but also for the officials and the crowd.
"I didn't really hear the crowd, but I definitely fed off their energy," she said. "When they're up, it gives you a little boost."
Tucker moved to Riggins as a junior, and called the support she and her teams have received from traveling Salmon River fans "her favorite thing about this town."
"This town is second to none for supporting the teams," she said. "It's amazing. When we're up, they're up, and when we were down, they were there to pick us up," Tucker added. "It's so great."
She said she had planned to go to Walla Walla Community College, but "at the last second, they offered a really good scholarship."
"I went and visited Treasure Valley and met the girls and I just knew that was where I wanted to go," she said. "I went down there for a kids camp and I got to meet the team. They talked me into it, coach Gabe Fuentes, and coach [Jenna] Ravenscraft. She's from here. I didn't know that until she was recruiting me and said, 'this is my home town.'"
Tucker plans to study nursing.
"Since I was little, I have always wanted to be a nurse," she said. "I'm completely infatuated with blood — it's just meant for me I guess. ... My mom worked in an ER for a little bit and she was a dental assistant. When my dad would go hunting, I'd be like, 'Can I gut the deer?'"
Strong grades in her high school classes combined with a Treasure Valley sports scholarship and support from the Salmon River Boosters, the local banks and the local chamber of commerce are all helping pay her way.
"A word of advice: don't slack off in your freshman year!" she said.
But between basketball and the other scholarships, she has her costs covered.
"I'm pretty much on a full ride," she said. "I had to apply and get accepted, which was pretty easy, and then I applied for every scholarship I could find. I was applying for ones I knew I wouldn't get, but then you get surprised and it's the biggest blessing ever."
"That's part of the small-town pride," she said. "I bet anybody that goes through this high school will tell you the same thing."
Her routine through high school began with sports at 5:30 a.m. followed by classes and sports late in the day — and she found time for basketball in all seasons.
She also played on travel teams this summer.
"We played a team sponsored by Golden State — all D-I athletes over six feet tall, and coming from a small town, you think, 'I'm so good.'"
"Then you find out how it really is," she said. "To get to the next level, I've got a lot to work on. I know that sports will always be part of my life, and I want to be a coach some day."
As for playing?
"We'll see how it goes in two years," she said.