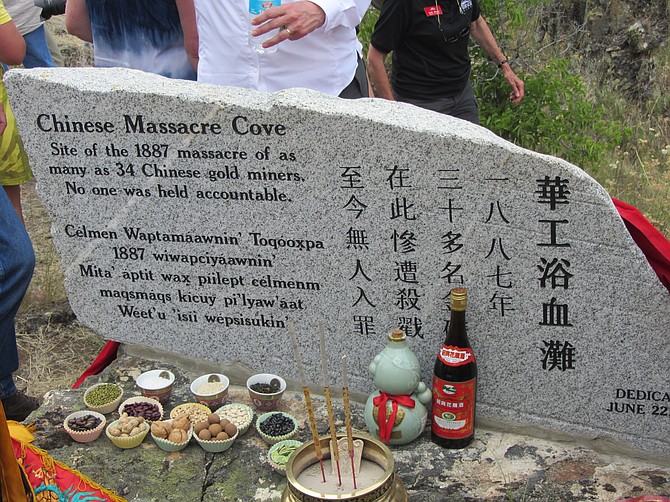 GRANGEVILLE — It's time for the second week of the Bicentennial Historical Museum's annual Brown Bag Lunch Lecture Series. Bring a lunch and join in to hear some local history.
For the next seven weeks, local history enthusiasts will discuss Idaho County people, places and things.
The sessions are free and open to the public, set for noon to 1 p.m., each Wednesday, in the basement of the museum, 305 North College Street, Grangeville.
The first presentation is set for today. Aug. 9, when Cottonwood's Floyd Whitley will present "Thomas Fellowes Medals Group and their Historical Context."
Patricia Keith of Lewiston will show a film for the Aug. 16 session. The March 2017 one-hour movie is called "Good Neighbors: Legacy of American Chinese in Lewiston, Idaho (1860s-1970s)."
"The first 10 or so minutes focuses on the very early history, and then goes into the life of Gue Owen," Keith said.
Keith said Owen had lived in Grangeville and "probably learned to speak English there."
The film also focuses on two men who still have descendants in Lewiston: Ted Loy and George Eng.
Keith has studied American Chinese including the Hells Canyon massacre that occurred in 1887 where 34 Chinese were killed.
Upcoming programs include the following:
•Aug. 23: Scattered Idaho County Graves by Max Pelham
•Aug. 30: Turn of the Century Homes in Grangeville by Annelle Urbahn
•Sept. 6: 31 Years on the Upper North Fork of the Clearwater River by Tom Keller
•Sept. 13: Nature by Janice and Roger Inghram
•Sept. 20: Tough Enough: 25 Years in Hells Canyon by Virginia Woods Meyer
•Sept. 27: Kirkwood by Erin Duden.