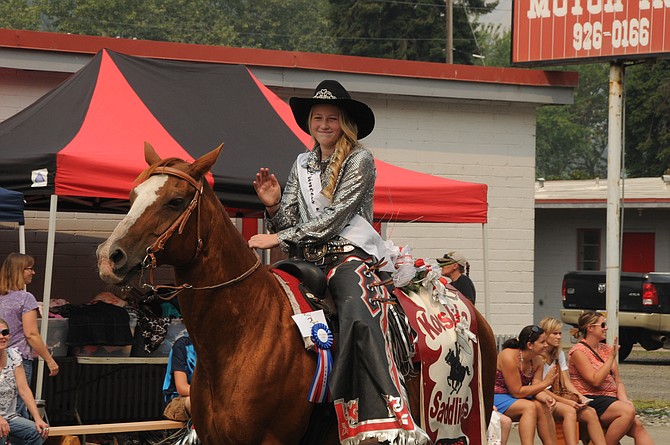 Photo by Lorie Palmer
Macy Morrow rode in the Kooskia Days parade Saturday, Aug. 5, representing the Kooskia Saddliers as its princess.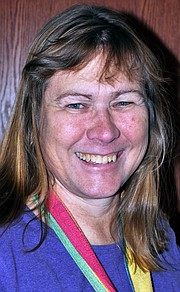 CLEARWATER VALLEY — So many festivals, so little time! I only passed briefly through Kooskia Days on Saturday on the way to a birthday party at Colter Creek Winery in Juliaetta. It looked like a lot of people in town and booths all up and down Main Street in Kooskia. Sadly, I was too full on the way home to stop at the fry bread booth.
I did get to the Raspberry Festival Sunday and met up with three artisans from the Clearwater Valley. One of my favorite booths is a Kamiah-based mail-order business selling flavored olive oils, (the fresh Meyer lemon was my favorite). They give you little chunks of bread to dip, to taste the oils. They had so many flavors I couldn't taste them all, but the earthy white truffle and the "hotbanero" were also worth a try. They also make marinade sauces, called "kickin' pineapple," "chili ginger" and "winey apple" that should be great for grilling season. Who wants to heat up their house with cooking indoors this time of year? Find Ronda Cutlip on line at www.creations4you.com.
I stopped to see Rebecca Wilson from Harpster, with her vintage style aprons in modern fabrics. Mine is a "Lucy" apron (as in I Love Lucy sitcom for those of you old enough to remember.) in a chili pepper design that makes me smile when I wear it. She also sews various other kitchen things you didn't even know you needed. Lynette from the Clearwater area was there selling her handmade soaps and other beauty products. She bills herself as "Red Horse" handcrafted products by Lynette. It's great to find out about more "cottage" industry small businesses in the Clearwater Valley. They add a lot to the social fabric of the Valley. Larry Nims, co-owner of Idaho-Stone Memorials in Kamiah and a talented local musician played as part of the band that provided music for the event.
Clearwater Meal Center luncheon set for Aug. 16
CLEARWATER – The Clearwater Meal Center's next luncheon is set for Wednesday, Aug. 16, noon, at the Clearwater Baptist Church. No charge for the luncheon, $5 donation appreciated when possible. Call 926-7776.
About the only things that like the heat seem to be the cucumbers and squash. As long as they get enough water they grow visibly from one day to the next. I'm trying to keep up with the pickling before the next round gets ripe.
I stopped by Valley Market & Health Foods on Main Street Kamiah last week on their first day of selling lunches- "grab and go" salads, sandwiches and soups with options for both meat lovers and vegetarians. I tried the CJ and T's salad, with greens, potato salad, coleslaw and grilled chicken. Everything was homemade and a great option on a hot day. Although they offer various canned and bottled drinks, I went for the fresh-squeezed lemonade- outstanding. Salads vary from Nicoise to kale-walnut while sandwiches vary from caprese to homemade meatloaf to roasted broccoli-pepper to roasted pork loin. It's a small, simple, low-key place. They are open Tuesday-Friday 11 a.m. to 3 p.m.
I was talking with Mary Anne Fryer this weekend. She told me that the Kooskia Library has had a lot of bicyclists stopping by this summer as they are coming or going over Lolo Pass. They stop at the library to connect to Wi-Fi and update on their travel route information. She helped one guy who needed to get to a bike shop to replace a tire. The closest bike shop is in Lewiston; she tipped him off that he could take the Appaloosa Express from the Kooskia Park (where he was camping) to Lewiston for a mere $2 dollars. I'm thinking this guy left the Clearwater Valley with a really good impression of our area.