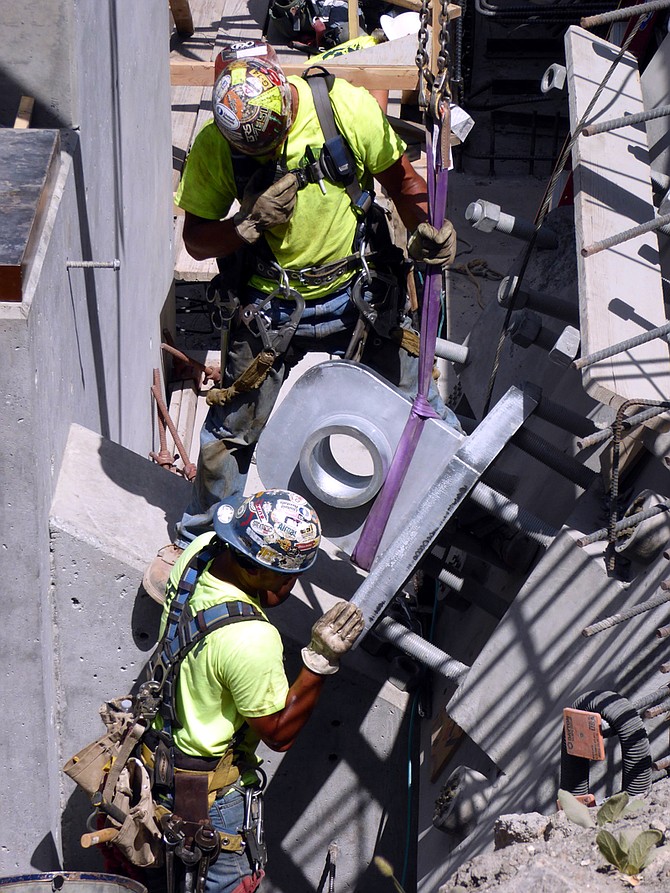 First, the rock held up the work.
Then the work held up the rock.
Now what's the holdup?
Last Tuesday, Aug. 1, the Manning Crevice Bridge replacement project contractor, RSCI, told the Idaho County commission they may be asking the Federal Highway Administration for a change order to allow the rock to stay.
But the commissioners and their advisors reminded the contractor that the county only agreed to accept the project if the rock was removed.
The contractors explained that although the rock was originally scheduled to be removed after the completion of the new bridge, the rock had interfered with construction on one of the north side abutments. So the contractor braced it in place so that it could be worked on safely, and cut about a three-foot piece off of it.
The RSCI representatives presented a report to the effect that if the commission would approve allowing the rock to stay, their engineer believes the supports would be enough to keep it from falling.
But county road and bridge department head Gene Meinen wasn't impressed.
"Is RSCI confident enough to carry a $10 million insurance policy indemnifying the county?" Meinen asked.
When the RSCI men demurred, commission chairman Skip Brandt pointed out the problem: "If this rock falls and smashes a family vehicle, what do we have to go to court with?"
When the RSCI men pointed out that there are many rocks along the road which could cause problems, county projects advisor Mike Cook pointed out that those other rocks aren't located above the bridge, and Meinen pointed out "nobody agreed to take those other rocks down, either."
Brandt noted the report the county received from RSCI described the rock supports as "temporary," and the RSCI men said it would cost about $100,000 to remove the rock under the change order the company will seek.
The rock is thought to weigh about 400,000 pounds; the RSCI men said workers have nicknamed it "humpty-dumpty."
Brandt also noted has heard interest from the public in the possibility of keeping the old bridge after the new bridge is completed.
The next major step in the project is the hanging of the gigantic cables that will ultimately support the new bridge, which is located about 13 miles east of Riggins along the Salmon River Road.