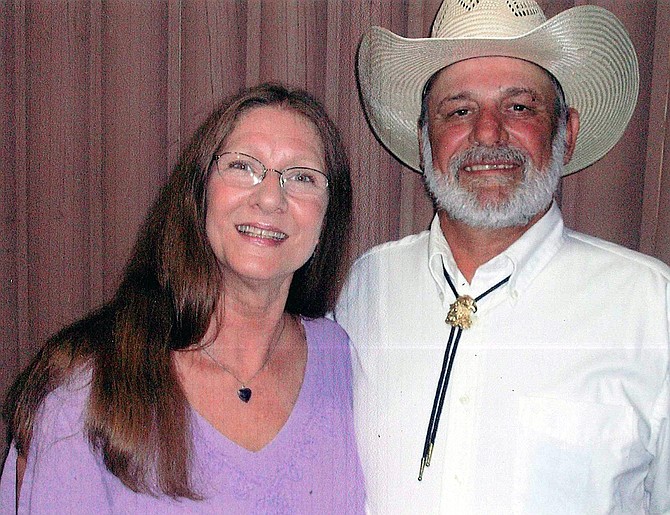 'Into the Woods' - Events set for Elk City Days
ELK CITY — "Into the Woods" is this year's theme for Elk City Days, set for this weekend, Friday, Aug. 11, and Saturday, Aug. 12.
On Friday, the kids' parade is set for 5 p.m., followed by the baseball game between the townspeople and the USFS at 6 p.m. After that, at 7 p.m., is the musical presentation by Linda Lanier honoring veterans.
On Saturday, the VFW auxiliary breakfast will be from 7 to 10 a.m. The ping pong ball drop will be at the Elk City Airport starting at 9 a.m.
The grand parade will start at 11 a.m.; line up early.
The sawdust dig for the kids will go from noon to 6 p.m. While the kids are digging, catch the logging events from 1 to 4 p.m., across the street.
ELK CITY — The Elk City Area Alliance recently announced Jeff and Nita Maxwell are the 2017 grand marshals for Elk City Days, which is set for this weekend, Aug. 11 and 12.
Jeff first visited Elk City as a child, in the '60s and '70s. His family would travel from Nampa and Lewiston to visit his mother's brother, Donnie Hall. Following high school, he served in the Navy, going overseas. He later married, had three children and worked with his dad and brother in the HVAC business in Bellevue, Idaho. Years later, Jeff, divorced, was looking for a change in his life. He followed his father's suggestion to go back to Elk City, where his uncle still lived. That was in 2000.
Nita grew up in Seattle, married, and had two children. Divorced, and living in Kirkland, Wash., she raised her daughters and worked at various office positions. She moved north from Kirkland to Ferndale, Wash. Nita first came to Elk City in 2007 to visit a longtime friend. Upon that visit, Jeff and Nita met at Bingo at the VFW hall.
"We like this part, as it makes a good story for the grandkids," they laughed.
They maintained a long-distance relationship for a little more than a year, with Jeff making trips to Ferndale. In 2008, a home was purchased, a proposal was accepted, and Nita moved to Elk City. They were married there the summer of 2009.
Living most of his life in Idaho, Jeff is an avid hunter and fisherman, enjoying horseback trips to the high country. They are members of the Elk City Dust Devils ATV Club.
"And, oh, yeah – Jeff has a pretty good case of gold fever," grinned Nita.
Every Fourth of July, for the past 17 years, with donations and support from the town, Jeff has provided a fireworks show. At Christmas, Nita helps decorate the veterans park. On New Year's Day, one can find Jeff – affectionately known as "DooDah" – setting up a town sledding party.
Last summer, Elk City started reorganizing their volunteer fire department. Jeff was asked to step in as captain, and this May took over as chief. Nita is also an active member of the Elk City Volunteer Fire Department and will be running its food booth during Elk City Days.
During the year, the Maxwells make regular trips to Boise and Seattle, spending time with their families.
"We are thankful to be able to be fairly close to our families, but we sure like being at home in our beautiful, mountain town of Elk City," they said. "In all our travels, we both agree, Highway 14 is the prettiest stretch of road we know."
"In this modern day and age, Elk City is refreshingly old-fashioned," Nita added. "And life can be fairly simple. We're all one big family. We work together, helping, supporting and taking care of each other."
When it comes to begin selected as grand marshals, the Maxwells said at first they were "shocked."
"But now, we are very honored and proud," they agreed. "Thank you to the people of Elk City, ECAA, our friends and neighbors. We love the people of Elk City and are happy to help in town, however we can. It's what people in Elk City do."