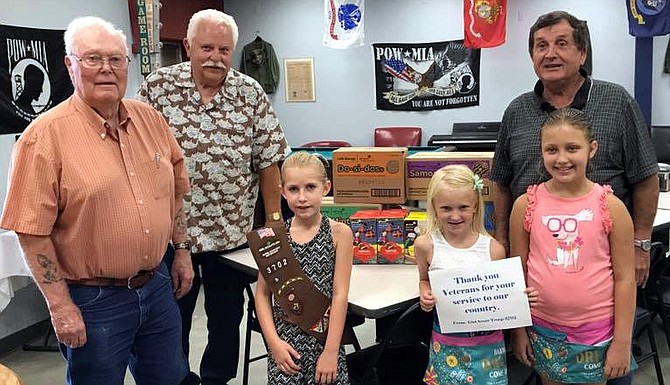 Monica Walker
Girl Scouts troop 3702 in Grangeville delivered "Troop to Troop" cookies to the Idaho County Veterans Center in Grangeville this week. They will also deliver to the Armory. Pictured (L-R) are Earl Barnes, Scott Scribner, Ellie Kouril, Chloe Weisz, Callie Weisz and Ben Paul.
Grangeville Senior Citizens
Shirley Crane opened the July 31st meeting with the Pledge of Allegiance. There were 79 meals served at the site and 34 home-delivered meals. Pinochle winners: 1st, Sharon Brixen with 3,760 and 2nd, Mel Willis with 3,700.
Shirley Crane led the Pledge of Allegiance at the Aug. 4 meeting and Barbara Essen offered the prayer. Dick Artley won the drawing for a free dinner. There were 86 meals served at the site and 39 hot and 49 frozen home-delivered meals. Guests were Julie Christiansen, and Beth Campbell from the Area Agency on Aging. Pinochle winners: 1st, Eileen Hazelbaker with 4,490 and 2nd, Beth Parrish with 3,650. Beth shared some ideas to strengthen muscles to prevent falls.
Menu for August 11: Beef Stroganoff over Noodles, Steamed Broccoli & Carrots, Mandarin Oranges and Rainbow Sherbet.
Menu for August 14 (Fair Week): Old-Fashioned Hamburgers, Sliced Tomatoes, Potato Salad and Apricots.
Pioneer Senior Citizens
Seniors wanting to go to Lewiston to shop or to doctor's appointments and don't want to drive, call Coast driver, Katie Manifold, at 208-451-4090.
Come join us for a meal every Tuesday for a small donation at the Pioneer Senior Center in the Cottonwood Community Hall basement. Meals are served at 12 noon.
Menu for August 15:
Mesquite Burger, Cucumber, Tomato Salad, Potato Salad, Green Salad, Corn.
To order meals delivered, call City Hall at 962-3231.
More like this story