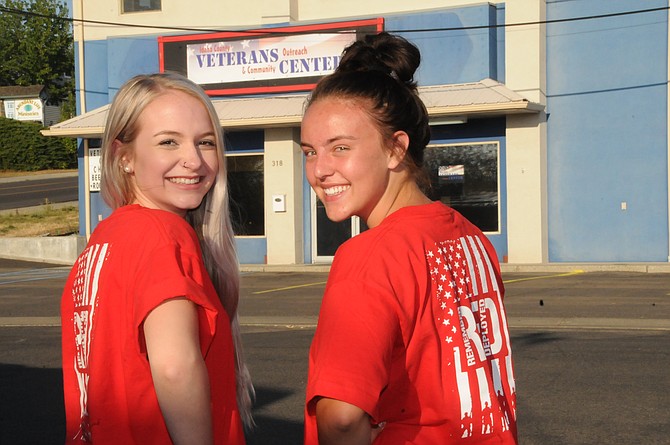 Photo by Lorie Palmer
(L-R) Grangeville High School seniors Morgan Crea and Tessa Godfrey wear read T-shirts to bring awareness to their R.E.D. senior project – Remember Everyone Deployed.
GRANGEVILLE — When people are on the home front, going to work and attending school and simply living their lives, it's easy to forget those serving in the U.S. military who are living apart from their homes and families.
Grangeville High School seniors Morgan Crea and Tessa Godfrey hope to remedy that.
The duo launched their senior project, R.E.D., during Border Days with a float and other awareness efforts.
R.E.D.?
"Remember everyone deployed," explained Godfrey.
"And wear red on Fridays to help remember," Crea added.
The local brainchild of Kathy Warford latches onto the national R.E.D. movement, whose mission is to "show solidarity and support for our troops."
Pre-orders of designed red shirts are available (forms are at the Idaho County Veterans Community Outreach Center at 318 East Main Street) for those who may not own any red clothing.
"However, our goal is not to sell T-shirts, it's to have everyone wear some type of red," Godfrey said.
"It can be a scarf or a bracelet or a hat – whatever," emphasized Crea. "And we're not saying you have to do it every Friday – we know people wear Bulldog blue on Fridays. But it's an option to wear something red and support our military."
The girls have received support from TLC4Vets. Their T-shirts are American made and any profits will go toward the Quilts of Valor program.
The R.E.D. project is available for presentations to local organizations and groups. Make contact through their Facebook page, Remember Everyone Deployed Idaho.
"I feel like this is something anyone can do – wear some red on Fridays," Crea stated.
"It doesn't matter what age you are or if you get out into the community much or if you have much money – it doesn't cost anything to wear red," said Godfrey.
Both girls have both veterans and current military personnel in their families and said they feel grateful to be able to support the U.S. military.
"It's about remembering them," Crea said.
"And getting people to remember to hope and pray for those deployed to all return home safely," added Godfrey.
Crea is the daughter of Daryl Crea and Godfrey is the daughter of Scott and Cindy Godfrey, all of Grangeville.