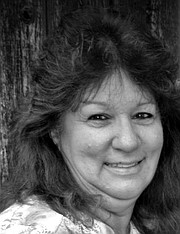 WHITE BIRD — The smoke is rolling in and that means that you are going to find it harder to breathe. Watch the children and older folks as this will affect them greatly.
With the fires comes the fire camps. They have put another one down at the rodeo grounds, so it will be closed to the public until further notice.
Salmon River Art Guild will hold their meeting Aug. 10 at 10 a.m. I also received an e-mail from them announcing the 2017 Regional Art Show, taking place in October, but wanted to get it out there. They are looking for entries from regional artists, 18 and older. Prize money of up to $1,175 will be awarded in five categories. More information will follow in the coming weeks or you can call Nancy at 208-839-2493, Kathryn at 208-839-2808 or Joyce at 208-628-3765.
BARD will be meeting on the 14th at 7 p.m., remember the public is encouraged to attend and they do rent the building out for various outings. Call Brenda at 208-839-2303.
Elk City Days will be held on Aug. 11 and 12, so if you want something to do, take a drive up the river and check it out.
Remember the meteor shower on the 12th. This is supposed to be so bright that you are able to view it during the day, too.
Then on Aug. 16 through 19 is the Idaho County Fair, so plan a trip to Cottonwood to check out all the exhibits in the open classes and all the hard work that the kids have been doing all year. The parade takes place on Saturday with the sale of the animals following later in the day.
The Brown Bag program has started for the next few months at the basement of the Bicentennial Historical Museum, starting at noon each Wednesday. Bring a sack lunch and enjoy the presentations. Aug. 16 will feature Good Neighbors: Legacy of American Chinese by Patricia Keith.
If you have never been to these, you are missing out on some very interesting facts.
Birthdays this next week are: Scott Dalgleish (6), Kate MacEachem, Rosalie Jessup, Frank Mignerey, Sr., Carol Carlson (8), Zoey Allyse Roemer, Jason McClanahan, Ethylee Kryns, Bill Gortsema, Linda Dobbs (9), Real Desrochers, Steven Pilant (10), Thaddeus Rhoads and Mathew Bromley (12). In Memory of Duane Lee (6), Ellie Turney (8) and Debra Jurkovich (11).
Anniversary greetings go out to Eloy & Gloria Pineda (12).
TidBits: The gray basalt cliffs and the hills, gray green during the spring and then brown the remainder of the year, were already a part of history before the settlement at White Bird began.
This seems to continue to this day so, be ever so careful of your surroundings. It seems to be getting worse each year, even with the long winters and plenty of snow in the mountains.
Enjoy what is left of August as in two weeks…school starts again!