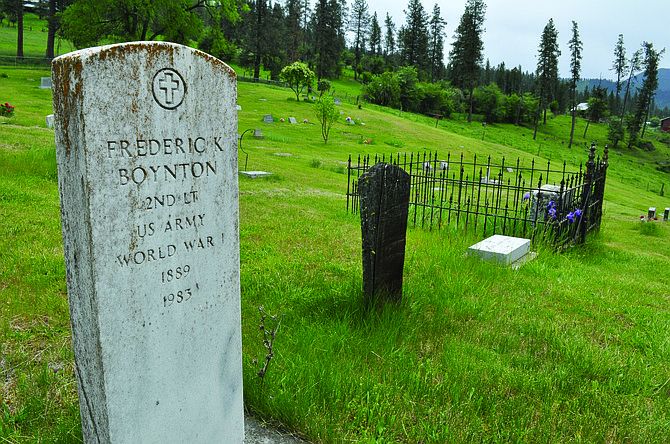 Photo by David Rauzi
Harpster's off-the-beaten-path cemetery has a variety of old headstones and grave markers.
GRANGEVILLE — The third week of the Bicentennial Historical Museum's annual Brown Bag Lunch Lecture Series takes place next week. Bring a lunch and join in to hear some local history.
For the next six weeks, local history enthusiasts will discuss Idaho County people, places and things.
The sessions are free and open to the public, set for noon to 1 p.m., each Wednesday, in the basement of the museum, 305 North College Street, Grangeville.
The second presentation is set for today, Aug. 16. She will show the March 2017 one-hour movie, "Good Neighbors: Legacy of American Chinese in Lewiston, Idaho (1860s-1970s)." Patricia Keith of Lewiston is the presenter.
Next Wednesday, Aug. 23, Grangeville's Max Pelham will present "Scattered Idaho County Graves."
"I've been interested in the various graves throughout the county and have been working on collecting information for the past 20 to 25 years," Pelham said. He will show a PowerPoint.
Pelham said some of the graves are on county maps, some are on USGS quad maps, while others are hidden and unmarked.
"Some have headstones and some don't," he explained.
Prior to retiring from the assessor's office, he said he would run across this information and find it interesting.
"There are a lot of stories out there, including a grave of a young boy who was half American Indian and was a scout for the Army who was killed and buried up on the way to the prison [NICI]," he said. He was the son of an Indian woman and a Scotch gunsmith for the Hudson Bay Company.
"The history really is interesting," Pelham said. He plans to put his findings in a book one day.
Upcoming programs include the following:
•Aug. 30: Turn of the Century Homes in Grangeville by Annelle Urbahn
•Sept. 6: 31 Years on the Upper North Fork of the Clearwater River by Tom Keller
•Sept. 13: Nature by Janice and Roger Inghram
•Sept. 20: Tough Enough: 25 Years in Hells Canyon by Virginia Woods Meyer
•Sept. 27: Kirkwood by Erin Duden