Experts estimate that 90 percent of all world-class athletes use chiropractic care to prevent injuries and increase their performance potential. All National Football League (NFL) teams rely on Doctors of Chiropractic in varying capacities, and 77 percent of athletic trainers have referred players to a chiropractor for evaluation or treatment.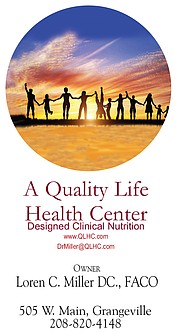 "You don't have to be an athlete to benefit from regular chiropractic care," Dr. Loren Miller of A Quality Life Health Center said.
Athletic performance is affected by a combination of strength, flexibility, speed and coordination. Participating in sports is encouraged because of the many benefits. Not only is a person getting exercise when playing, but they are also developing fine motor skills, learning about teamwork and fair play and of course building friendships.
You might not play football, but sports like soccer, base-ball, volleyball, softball and wrestling involve a lot of contact and the physical demands of any training and practice affect you.
Besides an adjustment helping when treating injuries from high-impact sports such as wrestling, football, and hockey, these specific chiropractic treatments offer other benefits as well. It's been shown that high-impact sports can place the same amount of strain on the body as an auto collision.
Bodily trauma caused from high-impact and low-impact activities to athletes can be minimized by routine spinal or extremity joint adjustments. For high-impact athletes, it increases performance and flexibility and lowers the risk for injury; for low-impact athletes (golfers, tennis players, and bowlers), routine adjustments can help relieve the strain that is being placed on the body. Chiropractic care offers a natural way to treat and prevent many different ail-ments that often plague athletes.