Tires get us to places we have to go, and more importantly, destinations we want to go. And North Central Idaho has lots to go see.
Get a view of one of Idaho County's most majestic vistas, the Seven Devils.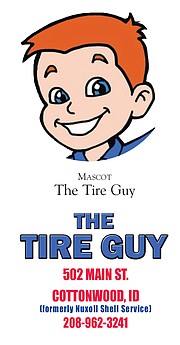 The Windy Saddle campground, trailhead and scenic viewpoint for the Seven Devils mountains is just 20 miles from Riggins, and accessible by a well-maintained gravel road. One mile south of Riggins, turn right onto the Seven Devils Access Road, 517. The road climbs steadily for the next 18 miles, winding past homes nestled along Squaw and Papoose creeks, then through the Nez Perce National Forest.
Windy Saddle offers a spectacular view of the craggy Seven Devils Mountains. A number of trails take off from the campground and picnic area, including a portion of the historic Boise Trail.
Heaven's Gate Lookout is located two miles above Windy Saddle. A 350-yard climb from the Heaven's Gate Vista parking lot leads to the lookout, more than 8,000 feet above sea level.
Interpretive boards placed around the lookout describe the view from each direction, directing views toward the Seven Devils, Camas Prairie, Wallowa Mountains and the Snake and Salmon river canyons. From the lookout, one can see four states: Idaho, Washington, Oregon and Montana.
Ready to travel? Check out The Tire Guy for your vehicle needs, as well as for roadside tire assistance. We're here to help get you places: 208-816-8040 (ask for Rick) or 208-962-3241 (shop), 502 Main Street in Cottonwood.