Looking to buy a used backhoe, tractor, riding mower or ATV? Check out GOBIDTODAY.COM, where auctioneer Kyle Musick and his wife, Ashley, are helping sellers around the region move farm equipment and estate items.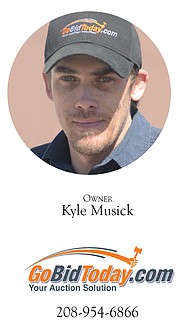 GOBIDTODAY.COM provides professional internet marketing service. The Musicks can he help you sell all kinds of items: everything from working snowblowers to antique plows. Kyle's experience as an auctioneer includes running business liquidation and estate sales, as well as real estate au-tions.
GOBIDTODAY.COM knows how to put your auction to buyers. Whether a live auction or an internet auction, Go-BidToday knows how to show your items, and how to pres-ent your car, tractor or machinery in good light. The service they provide can help bring more potential buyers to your location and present your items to many people who are ready to buy online.
GOBIDTODAY.COM has something for buyers to browse and bid on, with GoBid clients offering items such as farm equipment recently for sale.
Many of the auctions GoBidToday runs through its fast, secure website are online-only – but as a trained profession-al, Musick knows some buyers will only bid if they have the time and space to personally inspect items for themselves.
So how can you find a GoBidToday auction? You can al-ways find sales online at GOBIDTODAY.COM. If you look for the signs, you'll see when there's a GoBidToday auction inspection happening near you. If you follow the GOBIDTO-DAY.COM Facebook page, you'll find links to the latest up-dates. You can sign up for the GoBidToday.com e-mail newsletter to find out about upcoming auctions.
And if you have something you'd like a professional auctioneer's help with selling, you can contact Kyle at INFO@GOBIDTODAY.COM or by calling 208-954-6866.