On Aug. 21, a total solar eclipse will touch the U.S. mainland for the first time since 1979. Within the path of totality, you can safely witness the two or more minutes, when the moon completely covers the sun, with the naked eye.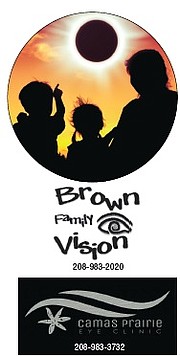 Outside of the path of totality (as Idaho County will be), always use solar filters. Dr. Joel Brown and Dr. Jill Lane, local eye doctors, want to reinforce that the only safe way to look directly at the uneclipsed or partially eclipsed sun is through special-purpose solar filters or other ISO-certified filters, such as "eclipse glasses" or handheld solar viewers.
If you stare at the sun without protection, you may exprience damage to your retina (the tissue at the back of your eye), which can result in permanent or temporary vision loss.
Another tip: Projection is an easy and inexpensive way to view the eclipse. Place a pinhole or small opening in a card, and hold it between the sun and a screen, like a big sheet of white paper, a few feet away. An image of the sun will be seen on the screen.
Check in with your eye doctor for more information about safely viewing the eclipse. If you experience any prob-lems with your eyes or vision after the eclipse, Dr. Brown or Dr. Lane will be able to provide you with the medical care you need. Contact them at Camas Prairie Eye Clinic, 405 E. Main Street, Grangeville, 208-983-3732; or Brown Family Vision, 622 W. North Street, Grangeville, 208-983-2020.