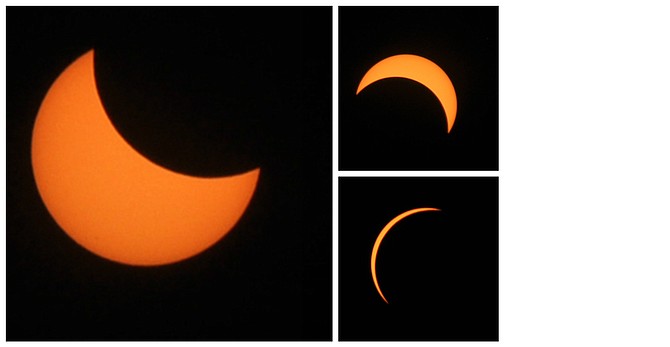 Photo by David Rauzi
Eclipse 2017 - Different phases of Monday's Aug. 21 solar eclipse viewed between 9:12 and 10:30 a.m.
A celestial rarity turned eyes skyward Monday morning, Aug. 21, as the region took in a solar eclipse. While not in total eclipse, Idaho County experienced about a 94 percent totality, enough for darkened skies around 10:27 a.m. to create a temporary dusk, enough to activate streetlights.
For more than an hour, starting at 9:12 a.m., the eclipse brought residents into the streets to watch the moon come between the sun and earth, attempting photos with cell phones, and viewing through specially tinted eclipse shades – for those lucky enough to get their pairs early – or some behind welding masks.
Robert Jones of Kamiah, 85, used a welding helmet to view the solar eclipse.
"I used one in the '70s and it worked fine," he laughed.
He stopped in at the Free Press Aug. 21 and had his wife and dog with him, as well.
"My wife's not taking a turn," he smiled. "She said it would mess up her hair."
Statewide, the Idaho Transportation Department estimated more than 30,000 additional cars were on the roads leading up to the event, and monitoring stations recorded steadily increasing traffic through the weekend prior. For the U.S. Highway 95 station south of Lucile, traffic was up 23 percent on Saturday morning, and by eclipse day Monday morning it had recorded a 51 percent increase (1,710 more cars compared with August 2016 traffic) with a total 15,840 vehicles recorded since last Thursday, Aug. 17.
Travelers headed back Monday afternoon caused some northbound congestion through the region, the largest slowdown through a one-way construction zone north of New Meadows on U.S. 95. No other incidents were reported by the Idaho County Sheriff's Office.
Elsewhere across Grangeville, tellers were peeking from behind the back door at Potlatch No. 1 Federal Credit Union, customers were viewing from the Zip Trip parking lot and a UPS driver pulled over and donned some eclipse glasses to see the event.
When the moon passed over the sun at its full coverage point in Grangeville, the area darkened enough for street lights to pop on downtown as well as on some bank and other business parking lots, and temperatures dropped a few degrees.
"I thought it would be a lot darker," said 17-year-old Hailey Russell, a Grangeville High School senior who watched the eclipse off Old Highway 7 with her boyfriend Andrew Roeschberger, a GHS junior.
"I honestly thought with all the hype it would have been more spectacular – but I am still glad I got to see it," Russell said. The duo used the eclipse viewers that were included in the Lewiston Tribune Aug. 17.
Gail Stowers of Grangeville agreed.
"Well, [it was] not as dramatic as I would have liked but fun to be a part of it," she said. Stowers took photos which are posted on her Facebook page.
Free Press Lowell / Syringa correspondent Marie Smith said she would be watching the eclipse from "downtown Lowell." She and husband, Mike, snapped a selfie of their viewing experience.
Idaho won't see another total solar eclipse for another 152 years.