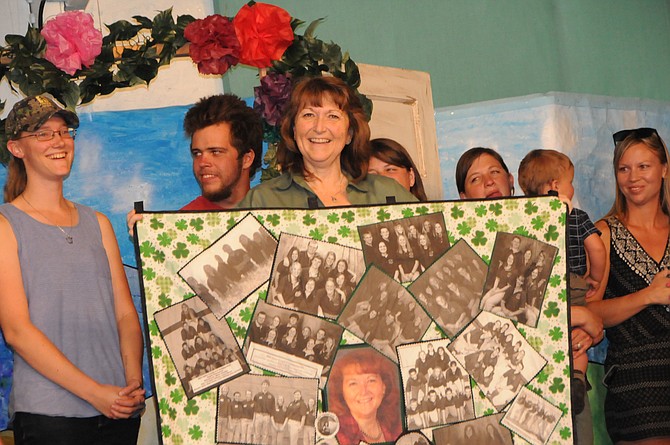 Photo by Lorie Palmer
Susie Heckman, Idaho County 4-H Program Director, is surrounded by past 4-H Ambassadors and quilt honoring her and 20 years of the Ambassador program.
COTTONWOOD — One name is synonymous with 4-H in Idaho County: Susie Heckman.
Heckman, the Idaho County 4-H program director, celebrated her 29th fair last week during the 2017 fair.
"No, I haven't been here 29 years – I myself am 29 years old!" Heckman joked.
Heckman was honored at the fair Wednesday night, Aug. 16, not only for her work with the University of Idaho Extension Office, but also for her 20 years as the mentor for the Idaho County Ambassadors.
"I count on them, especially during the fair," she said. "They work hard."
The Ambassadors started, Heckman explained, as a way to retain older 4-H kids in the local clubs.
"We didn't want to take them out of their clubs, because they are mentors and leaders in those groups and are needed there," she said.
Those who are Ambassadors must maintain membership in their chosen club(s), be a sophomore through senior in high school (public, private or home schooled), and have been a member of 4-H for at least four years.
More than 25 Ambassadors from throughout the past 20 years showed up at the fair to honor Heckman and present her with a quilt bearing a photo of each group from the past two decades with her face in the middle.
"Thank you," Heckman told the group. "I am honored."
For information on the Ambassador program, which will soon be accepting applications for the coming year, contact Heckman at 208-983-2667.