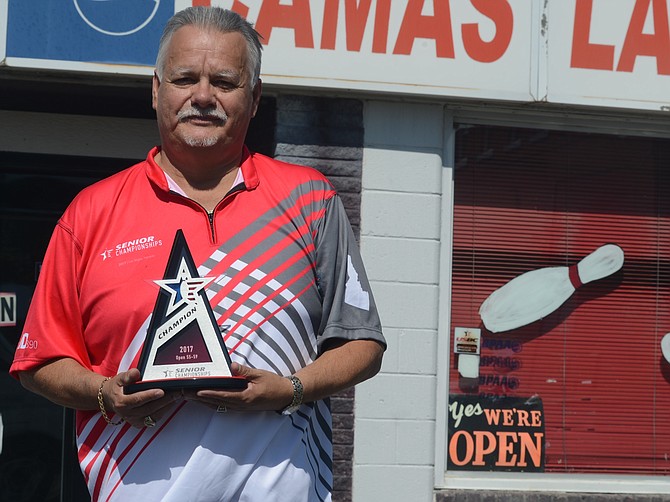 Photo by Andrew Ottoson
Louie Serrano's great bowling year continued earlier this month in Las Vegas at the USBC Senior Championships, where he took first place in the men's 55-59 division.
Louie Serrano of Grangeville set two local marks last bowling season, bowling Camas Lanes' first 300 game as well as an 800 series. He bowled another perfect game in March, during the qualification tournament held in Burley for the 2017 Senior Championships recently held in Las Vegas. And Serrano's strong play continued in Vegas, where he tallied a 714 score on 650 pins during the three-game medal round in the 55-59 men's classification.
"I'm bowling out of my mind," he told the Free Press Monday afternoon, Aug. 21.
Gary Kalmbach of Keuterville also qualified through the tournament in Burley; he ended up 14th in the men ages 60-64 classification. Virginia Davis of Kamiah also qualified out of the local association, and she ended up 14th in the women's "super senior" classification.
"Louie is the man," Kalmbach told the Free Press Monday night. "I've been to two other senior nationals but I haven't won one. For three to get there from our little association, that's a big deal."
The event involved 430 amateur competitors from 48 states and four Canadian provinces bowling in six classifications. The field was narrowed through two blocks of qualifying play at Texas Star Lanes during the two days before Friday's medal round.
Serrano made the cut for the medal round, following up a first round 742 with a second round 667 for a 1409 total — good enough to join the top six.
Four straight strikes late in the medal round carried Serrano barely past Rocky Otsuka of Hawaii.
"It was a crazy day," Serrano said.
Kalmbach watched from the audience.
"What makes Louie such a good bowler," he explained, "is his mental game. When he got into the rolloffs, he really focused on the spot. He focuses better than anybody I know. That's what you've got to do. Sometimes other bowlers try to distract you, but it's really just you against the lane — how it's oiled is something you have to read and adjust to."
Kalmbach called the lane conditions "very tough down there."
As for Kalmbach's own performance?
"I've done better," he said, "but I choked on a single-pin spare. If I had got it, I'd have been in the top six."
10 years or so ago, Kalmbach and Jerry Brehmer finished 11th at a USBC open national event that boasted about 10,000 entries.
He and Serrano prepared for this one together.
"I'd like to thank Doug and Brenda [McRoberts] for opening up the bowling alley on Thursdays so Gary and I could practice here," Serrano said.
Kalmbach echoed that sentiment and pointed out they would otherwise have had to go to Lewiston for practice.
"They've always supported local bowlers very well," Kalmbach said.
Bowling season across the area starts Sept. 5, and those who would like to join a league team — or who would like to enter a new team — may contact Camas Lanes, 208-983-1160.