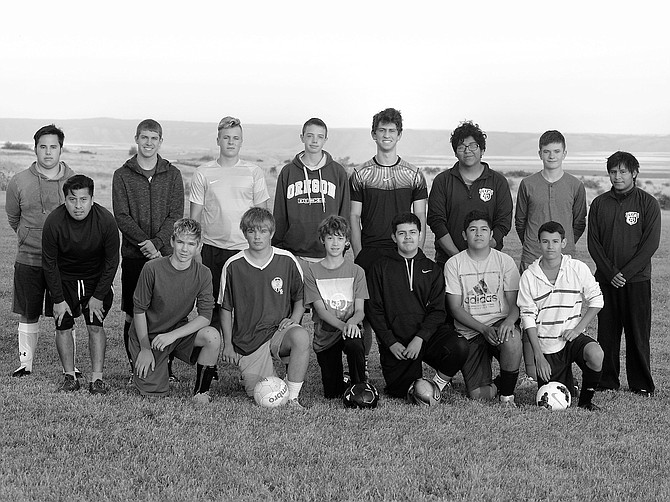 Photo by Andrew Ottoson
The 2017 Bulldog soccer boys are (from left): back row, Alec Rioux, Ethan Bonn, Michael Told, Braxton Miskin, Ryan Ruklic, Adrian Ramirez, Aidan Acton and Luis Castro; and, front row, head coach Joel Gomez, Isaac VanDomelan, Sebastian Darwish, Owen Ruklic, Jesus Perez, Amador Perez and Emilio Barela; and, not pictured, Dayne Kinsley, Mickey Nelson, Robert Newsom and Jake Wren.
GRANGEVILLE — GHS head coach Joel Gomez was surprised by his team's nervous start to the program's second season, during which McCall shut the Bulldogs out on Aug. 22.
"It was pretty bad," Gomez said. "Everybody was pretty nervous. I'm not sure why — a lot of the players played a lot last season. We were doing good until we started making mistakes. The first one was about 15 minutes and we allowed eight goals that were just our mistakes."
Ethan Bonn was perhaps Grangeville's best player that day, praised by his coach for running the whole field and playing superb defense.
GHS is also looking to Ryan Ruklic, Amador Perez, Adrian Ramirez, Jose Luis Ramirez and Michael Told, all of whom played well last fall. Bonn and Ruklic are the team captains.
GHS also had a tough start as a co-ed team opening against Moscow last fall.
"I wish we could have played Moscow again," Gomez said. "I like to play the best. It's a good experience for the kids to see teams that practice year-round. They need to see that if they play hard and keep practicing, that's what they can be."
Both GHS soccer teams next play Sept. 2 at Priest River.
Grangeville Boys
Varsity
Aug. 22 at McCall
Aug. 26 at Priest River
Sept. 2 at Timberlake
Sept. 9 vs. Priest River
Sept. 12 at Orofino
Sept. 16 vs. St. Maries
Sept. 30 at St. Maries
Oct. 3 vs. Orofino
Oct. 7 vs. Timberlake