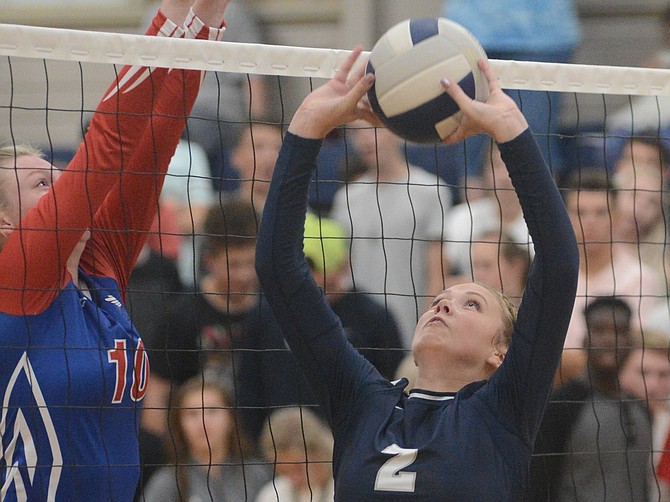 Photo by Andrew Ottoson
Grangeville's Kally Arnzen has long been the leading GHS setter, and under new coach Cheyenne Hudson's 6-2 system, she will have more opportunities to hit this fall.
GRANGEVILLE — The Bulldogs had no trouble with McCall on the first night of the volleyball season, with first-year GHS coach Cheyenne Hudson's team winning 3-0 (25-19, 25-17, 25-22) on the strength of sound play last Thursday night, Aug. 24.
"Overall, it was a good start to the season," Hudson said. "It showed me some things we need to work on, and most importantly, the girls battled hard and had fun."
Up next, Grangeville (1-0) is scheduled to play at McCall on Sept. 6.
Elsewhere, in the Whitepine League's upper division, Prairie beat Kamiah and Genesee beat Clearwater Valley. In the WPL's lower division, Summit beat Deary 3-1 after dropping the first set by six. The Patriots took the lead by winning 50 of the next 69 points, then held off the Mustangs 27-25 in the final set.
Prairie is set to host Troy Aug. 31, and to host Potlatch Sept. 5. CV is set to visit Lapwai Aug. 31, and to host Kamiah Sept. 5. Kamiah is set to host Orofino Aug. 31. And Summit is set to host Deary Aug. 31, and to visit Nezperce Sept. 5.