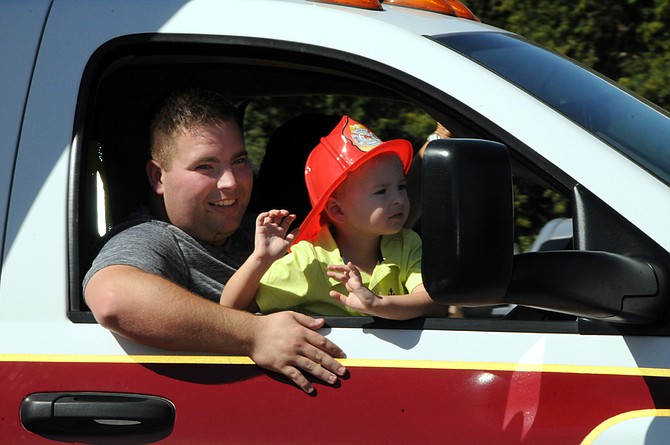 Photo by Lorie Palmer
Participants in the 2016 Kamiah Barbecue Days parade.
KAMIAH — Football, barbecue beef, parades and karaoke will all be part of the weekend's events as Kamiah Barbecue Days will celebrate its 81st annual event Labor Day weekend, Sept. 1-3.
Friday, Sept. 1, everyone in town is encouraged to wear Kamiah Kub colors. The Kamiah Valley Museum (adjacent to the Welcome Center downtown) will be open 9 a.m. to 3 p.m. The art show is set for Central Idaho Agency, 5th and Main streets, from 9 a.m. to 5 p.m. The library will also be host to several activities from 10 a.m. to 3:30 p.m.
The senior center spaghetti feed (125 Maple Street) will run from 4 to 7 p.m. and the art show will have an artists' reception from 5 to 7 p.m. The chamber beer garden is set to open on 5th and Idaho streets at 5 p.m. The Kamiah Kubs will take on Valley (Hazelton) at Kamiah High School at 7 p.m. A 5th Quarter Barbecue Teen Dance will be held in the football field following the game. Live music and dance will take place downtown starting at 9 p.m.
Saturday, Sept. 2., will begin with the Chuck Wagon Breakfast at the CVRA Rodeo Grounds, 7 to 10 a.m. At 8 a.m., the Barbecue Days Fun Run, Walk and Roll will be held. The all-school reunion is set for 9 to 10:45 a.m. at Kamiah Middle School.
The art show will continue from 9 a.m. to 4 p.m. and the 15th annual arts and crafts show is set for 5th and Idaho streets, 9 a.m. to 6 p.m. The 23rd Annual Quilt Show is again scheduled for St. Catherine's Church basement from 10 a.m.to 5 p.m.
The grand Main Street parade will be at 11 a.m. (lineup at 10 a.m. on 9th and Hill at KHS), with the kiddies' parade directly preceding. Theme for the kiddies' parade is "Super Hero" and lineup is 10:30 a.m. at the Legion Hall, 7th and Main streets.
A 3-point pop-shot event is set for noon and the beer garden will also open at noon. The Clearwater Classics Car Show will take place on 5th Street from noon to 4 p.m. and the Youthzone with activities for kids is set for the Wa'A'Yas field from 1 to 5 p.m. The chamber auction will take place at 2 p.m. at 5th and Idaho, and a karaoke contest with cash prizes is set for 2 p.m. in the It'se Ye Ye Casino parking lot.
The free barbecue dinner will be held on Idaho Street, 5 to 7 p.m., and a street dance, "Under the Stars" with the band Kicktoy, is set for 8 p.m. to midnight on 5th and Idaho streets.
Sunday, Sept. 3, The Life Center will sponsor an outdoor church service at Riverfront Park at 10 a.m., and the quilt show will continue from 10 a.m. to 5 p.m. End the weekend with the CVRA Bull Bash at the rodeo grounds starting at 4 p.m.
Barbecue Days are sponsored by the Kamiah Chamber of Commerce. www.kamiahchamber.com.