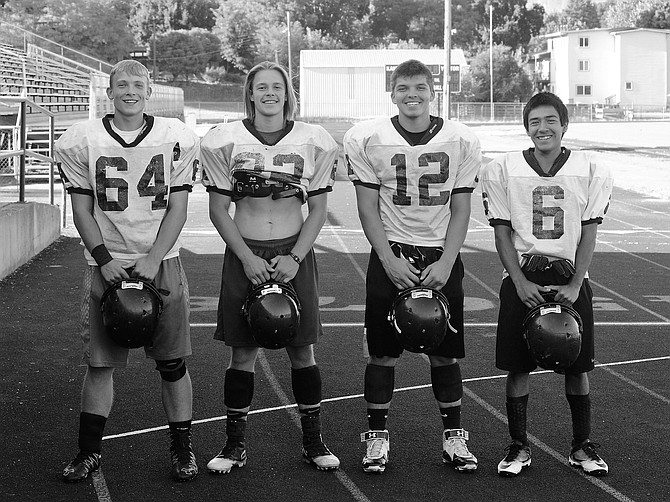 Photo by Andrew Ottoson
The 2017 Kamiah Kubs are led by four key returning starters in Peyton Whipple, Luke Snyder, Kaleb Oatman and Tyrel Henry. Whipple, Oatman and Henry all received all-Whitepine League recognition and Snyder may make decisive impacts this fall, having been one of the team's most explosive offensive players early last season.
The Kamiah boys have their work cut out for them this season. Second-year head coach Nels Kludt describes them as a proud bunch who were disappointed with how last season ended up — and who want to prove the program's winning tradition continues.
The Kubs battled injury from early-season to the end, and placed barely ahead of Potlatch. The late October victory over the Loggers was Kamiah's only Whitepine League win.
"We're going to see right away where we're at," head coach Nels Kludt said. "The first one is a tough one, with Valley coming here. It's a good opener. And we're lucky enough to get a couple of home games right off the get-go, for conference games. It's a tough league top to bottom. I think it sets up well, if we come out and play well."
Kludt said he sees the team making good progress in practice, but cautioned: "You just don't know until that first game. ... If your younger kids develop and everybody else comes along, then who knows?"
Kludt praised his seniors.
"They're leading us extremely well," he said. "They're practicing hard. They've got goals for this team. They were really disappointed about last year year. They didn't like the way the season went, they didn't like the way it ended, they didn't like anything about it. And they want to show last year was not the norm in Kamiah."
And Kludt pointed out how the injury trouble also had an upside: "We played a lot of kids in a lot of different positions that we had planned," he said. "A prime example is Kaleb Oatman, who we had playing quarterback and running back and who we had to throw at tight end. Same with Luke Snyder playing running back and tight end and quarterback when we needed him to. And versatility is a good thing."
Knowing more about each other's roles may also benefit the Kubs on defense.
The Kubs held a team camp right at the end of the summer and went from that into practice.

"Guys have been in the weight room, and that has been really good," Kludt said. "We went to summer camp — we set it up early and took 21 or 22 kids. We got to know each other a little bit. We had a good time."
The Kubs added one player from Grangeville, Chad Simmons, who may not be eligible to play varsity this fall because of uncertainty about his transfer status.
But the Kubs' core returns intact: Oatman will be under center with Snyder in the backfield and Tyrel Henry wide to one side and Peyton Whipple up front.
Kamiah is set to host Valley at 7 p.m. Sept. 1, and before the game, KHS will name its sports complex after local sports titan Bob Squires, who helped set the foundation for the tradition the Kubs now aim to advance.
Kamiah Football
Varsity
Sept. 1 vs. Valley
Sept. 8 vs. CV
Sept. 14 CANCELLED/RESCHEDULED
Sept. 23 vs. Wallace, 3 p.m.
Sept. 29 at Prairie
Oct. 6 vs. Lapwai
Oct. 13 vs. Troy
Oct. 20 at Genesee
Oct. 28 at Potlatch, 1 p.m.