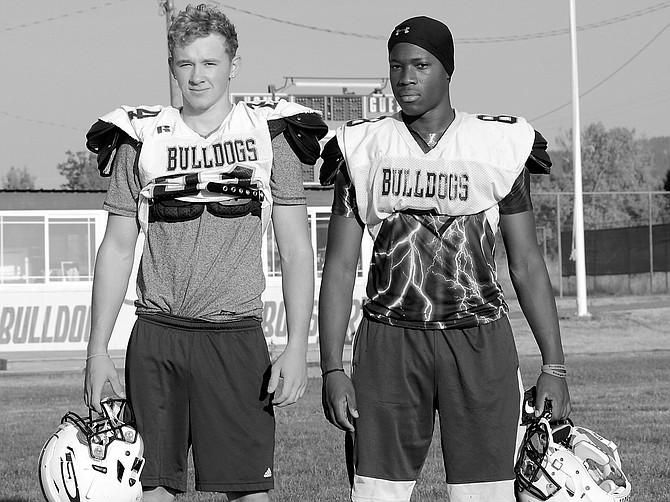 Photo by Andrew Ottoson
The 2017 Bulldogs feature two seniors — Garett Malone and Braison Norman — during head coach Jeff Adams' first season overseeing the program as a whole.
Jeff Adams is living the dream: Not only has he realized a lifelong goal to some day coach the Grangeville High football squad, but also, he takes the wheel from former head Jeff Lindsley at just the moment when a large and gifted group of sophomores have become upperclassmen.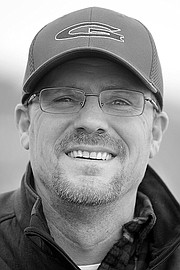 The coaching staff moved to reorganize immediately after the season-ending loss to Declo during the state quarterfinals last fall, with Lindsley taking on a strength and conditioning role he saw as critical even as Declo's linemen were pushing the Bulldogs around. The change also allows Lindsley to take time to watch sons Cole and Juston Lindsley play at College of Idaho this fall.
And while his title changes, the main difference that comes of it is greater public recognition for Adams' continuing role as the Bulldogs' offensive mastermind. (He might also be getting a little more grief from the press — and perhaps also a bit from the other guys at the Bulldogs' staff meetings. But none of the eight at the heart of the organization are spilling the beans about that.)
So while the coaching titles have changed, the Bulldogs organization is essentially the same as it had evolved to be through Lindsley's seven years. Chad Hill is now running the defense. Todd Marek and Mark Craig are still running the JV. The supporting volunteer group adds Cody Stoy and Austin Gortsema to the long-standing efforts of Jeff Goldman and Max Cawley.
The bigger changes this fall since last have been roster developments: Booker Bush, Justin Fogleman, Noah Kaschmitter and their fellow 2019s are coming of age.
Adams has once again rebuilt his offense around the players' skills: running other teams ragged with powerful runners out of powerful formations, forcing opponents to play closer and closer to the line of scrimmage, then throwing deep to evasive speedsters.
It's a recipe for offense essentially every team tries to make, but the Bulldogs have become masters of cooking up the same stew from whatever ingredients they have available each season.
Adams' wore the chef's hat throughout Lindsley's tenure. If past patterns hold again this season, he'll be cooking all season.
Here's how Adams explained to the Free Press the personal importance of the head coach's job to him during the transition in February:
"There was a group of men at the high school then who were fairly consistent male role models who showed the guys who played sports how to compete, and it was all stuff you'd use to be successful in life," Adams said. "We've had a stellar crew coaching and we're keeping the same guys on, with one or two new volunteers as well."
Beyond the coaching change, the Bulldogs have had a couple of key roster moves: two subtractions, and a potentially bigger addition.
Part-time starting quarterback and defensive back Chad Simmons transferred to Kamiah, and another defensive back — Julian Valenzuela — also left via transfer. But the Bulldogs also gained a transfer — and a big one at that.
Look for a physically imposing junior out of Orofino to make some maniac plays in a Grangeville uniform this year. Tight end and linebacker Brandon Stump is sure to stand out — not just for overpowering opponents at the point of attack, but also for head-and-hands plays. During the Bulldogs' scrimmage a week before their Aug. 25 opener against Moscow, Stump made a number of outstanding catches — including a couple most players have neither the awareness nor the mitts to make.
He joins a junior class that runs 20 deep on the 29-man varsity roster.
The squad's two seniors both figure into Adams' plans, with Braison Norman's speed an asset in the offensive and defensive backfields and Garett Malone's role on the lines of prime importance as the Bulldogs work to replace three starting linemen who graduated last year: Tristan Roberts, Bobby Remington and Jon Asker.
The returning Bulldogs will not be overshadowed, as Fogleman projects as a defensive playmaker and Kaschmitter already has some all-state recognition behind his name.
Kaschmitter was Grangeville's most imposing player last fall, with his combination of size and speed and overall athleticism commanding double-teams from opposing offensive linemen. On offense his running style caused mayhem for defenses: occasionally, he'd make a subtle change of direction and leave an opposing linebacker in his dust. More often, he'd find the direct path toward the most punishing collision.
Bush's ballhawking helped stabilize the defensive secondary and also produce big plays for whichever quarterback was throwing.
Along with Kaschmitter and Bush, Adams took note of the play of Zack Forsmann, Malone, Nathan Lothspeich and Stephen Goldman during the Bulldogs' annual July camp at Boise State.
"We were worried about our offensive line after last year," he said. "But after camp, that might be our best asset."
Simmons' departure clarifies the role returning quarterback Tescher Harris is to play. Harris suffered injury late last year, and his progression as a passer will help GHS counter the defensive overloads the opposition is likely to bring to bear against the runners. Among his targets will be fellow juniors Blake Darr and Jacob Vanderwall.
Two external challenges loom large in October: Grangeville visits defending state champion St. Maries on Oct. 6, and hosts Central Idaho League rival Orofino. Two wins would guarantee a place in the 2A playoffs. Two losses would end their season.
Homecoming comes early this fall: Grangeville's festivities will be held the week leading up to the Sept. 15 home game against McCall.
Grangeville Football
Varsity
Aug. 25 vs. Moscow
Sept. 1 at Nampa Christian
Sept. 8 at Clarkston
Sept. 15 vs. McCall
Sept. 22 at Parma
Sept. 28 vs. Lewiston
Oct. 6 at St. Maries
Oct. 13 vs. Orofino