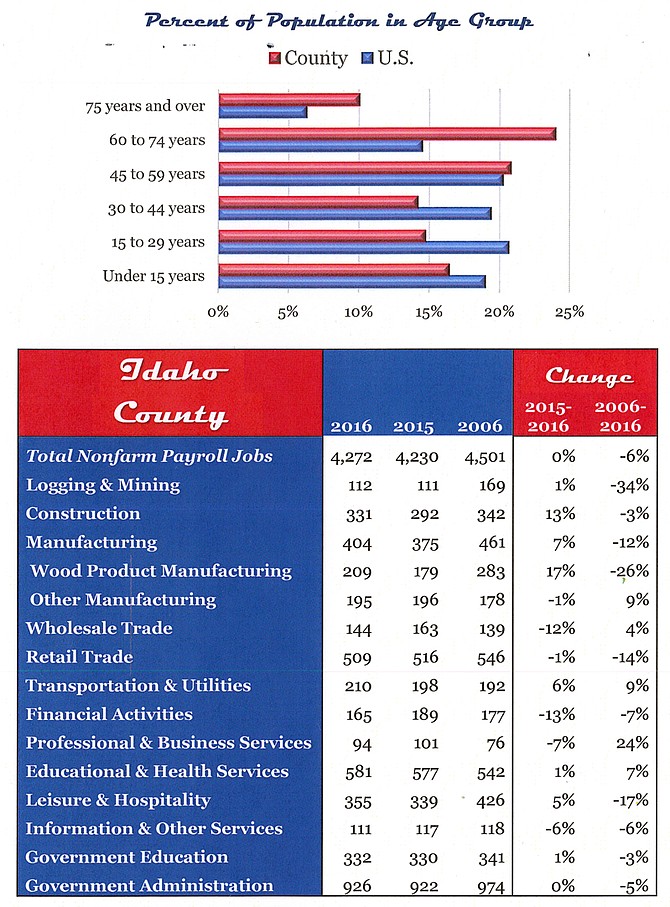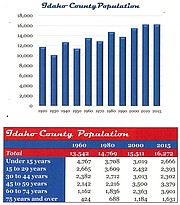 Idaho County's economy had a so-so year. Nonfarm payroll jobs remained unchanged around 4,230—with some sectors adding a few jobs and other losing a few. The seasonally adjusted unemployment rate was 5.7 percent in November, down slightly from the 5.9 percent the previous year.
Kathryn Tacke, regional economist, Labor Public Affairs Bureau, Idaho Department of Labor out of Lewiston, recently sat down to crunch numbers on Idaho County's 2016 economy.
At 8,485 square miles, Idaho County is the state's largest county and one of the largest counties in the continental United States. More than four-fifths of the county is covered by national forests and the Forest Service is a major employer. Its employment declined from 310 in 1996 to 240 in 2016, Tacke said.
Jobs in logging and wood products fell 18.3 percent from 476 in 1995, to 389 in 2007, and then another 51.7 percent to just 188 in 2009, she added. Today, about 250 people work in the industry. Idaho Forest Group, with its mill in Grangeville, has more than 160 employees and is the county's largest manufacturer.
"The county's other traditional mainstay, agriculture, enjoyed strong incomes two years ago, but had a discouraging year in 2016, with depressed wheat prices, cattle prices falling from record levels to low ones, and 'falling numbers' reducing the quality of wheat yields," Tacke explained. Wheat and cattle are the county's major agricultural products. The county's 731 farms and ranches cover 639,000 acres and produced agricultural products valued at $80.8 million in 2012, according to the U.S. Department of Agriculture economic survey which is conducted every five years.
She said the region's forests also play a major role in a growing industry—tourism. Leisure and hospitality—a sector that includes amusement, the Museum at St. Gertrudes, recreation, lodging, restaurants, and bars—grew 5 percent—adding an estimated 16 jobs—in 2016.
Non-wood manufacturing employment increased 120 percent from 100 in 1992 to about 220 today. Manufacturers include Anderson Aeromotive, with 40 employees in Grangeville; Idaho Sewing for Sports in Mt. Idaho, which employs more than 20 people; and other sports venues; and six machine shops and metal fabricators on the Camas Prairie.
Pacific Cabinets in Ferdinand opened a new 20,000-square-foot building next to its original facility this fall. This increased its employment from 40 to 55 by the end of the year. Average hourly wages for the new workers were $15.64 plus employer-assisted medical benefits.
In October 2015, a fire destroyed the WaterOz mineral water plant in Stites, putting 10 people out of work. This October, eight former WaterOz employees opened Clearwater River Supplements to make a variety of dietary supplements featuring pure liquid minerals.
Federal and state employment remained steady in 2016. The federal and state government sectors provide 11 percent of the jobs in the county, while they provide 6 percent of U.S. nonfarm payroll jobs, said Tacke. In addition to the Forest Service, federal and state employers include the Bureau of Land Management with 40 employees and North Idaho Correctional Institution on Cottonwood Butte with 60 employees.
Construction employment grew 13 percent in 2016. A $4 million project realigned the runway at the Idaho County Airport in Grangeville; a six-month, $3.5 million project cleared the road to Elk City from the landslide that blocked it in February; and Advanced Welding and Steel in Grangeville increased its employment. In August, the Idaho Department of Commerce awarded a $500,000 grant for renovations and improvements at Syringa Hospital in Grangeville and $300,000 for water system upgrades at Rapid River Water and Sewer District.
"Idaho County commissioners met in October with a representative of a company that is considering developing a wind turbine farm at the top of White Bird hill. Eight years ago, the company obtained leases from the Spencer Ranch for about 8,000 acres to erect the turbines," Tacke expounded. She said the $645 million project could begin as early as next spring. The wind farm could produce as much as 145 megawatts of energy, 35,000 gallons of synthetic diesel, and 60,000 gallons of distilled water a day. It could create 45 or more jobs.
School enrollments rose this fall throughout Idaho County. Mountain View School District 244 enrolled 59 more students this fall than last fall, while the Cottonwood Joint School District 242 enrolled 19 more. Salmon River Joint School District 243, based in Riggins, had a total of 104 students in the previous school year compared to 114 this year.
"Because the county's population skews older, there are about 10 more deaths each year than births. Idaho County's population grew 8 percent from 15,103 in 1995 to 16,272 in 2015, while the state's population grew 41 percent and the nation's population grew 21 percent," Tacke explained.
She said the increase in the senior population makes the health care division a fast-growing sector. Health care more than doubled from 305 jobs in 1995 to 650 in 2015. During the last year, the sector added another 20 jobs. Syringa Hospital in Grangeville and St. Mary's Hospital Cottonwood employ about 360 people, while 26 other health care providers employ about 240 people.