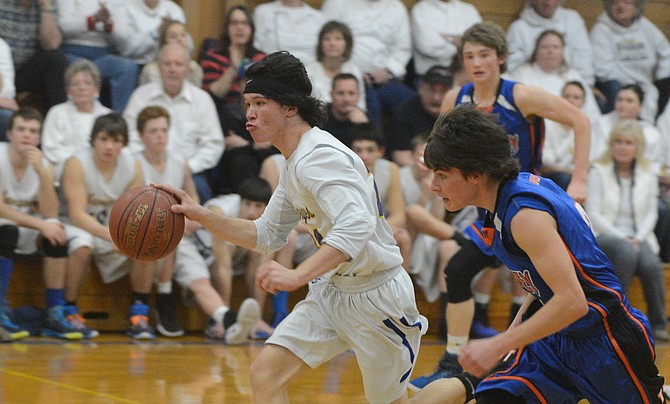 Photo by Andrew Ottoson
Salmon River senior Tucker Boyd races ahead with a steal during the Savages' narrow win over Tri Valley Jan. 28.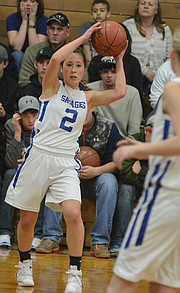 RIGGINS — The Salmon River girls had taken an unexpected loss on a last-second shot against Tri Valley earlier this season, but made certain no late twist of luck could turn around the final score last Saturday night, Jan. 28, routing the Titans 63-30 on the strength of Maddy Tucker's 35 points.
"That was a pretty big win for us," coach Paula Tucker said. "They played their little hearts out."
Salmon River's post-season begins at 6 p.m. Feb. 4 at Meadows Valley High School, where they'll play the Garden Valley-Cascade winner in District III tournament action.
Savages smash TV
RIGGINS — The Salmon River boys barely held off a team that had beaten league-leading Cascade the previous night, and the win bumps the Savages into first place in the Long Pin Conference. SRHS prevailed 49-46, partly by way of a third quarter stall.
Coach Charlie Shepherd praised two tough plays late in the game. Canyon Harper took one charge with about a minute left in the fourth and Tucker Boyd took another with less than 30 seconds to go.
After SRHS pulled ahead on three-pointer by Stephen Hackler, Tri-Valley's defense refused to step out of a tight zone defense, leaving Clayton Shepherd to dribble away 3:50 of game clock late in the third quarter. The Savages bled it down to two minutes, then ran a play for a three-pointer, which missed long, and which Harper rebounded.
The stall continued through the third quarter horn, at which the Savages led 36-34, and went on until about 5:30 of the fourth, when Tri-Valley ratcheted up the pressure.
Salmon River widened the lead to 40-35 and Tri Valley cut it to 42-40 before the Savages finally closed out the contest.