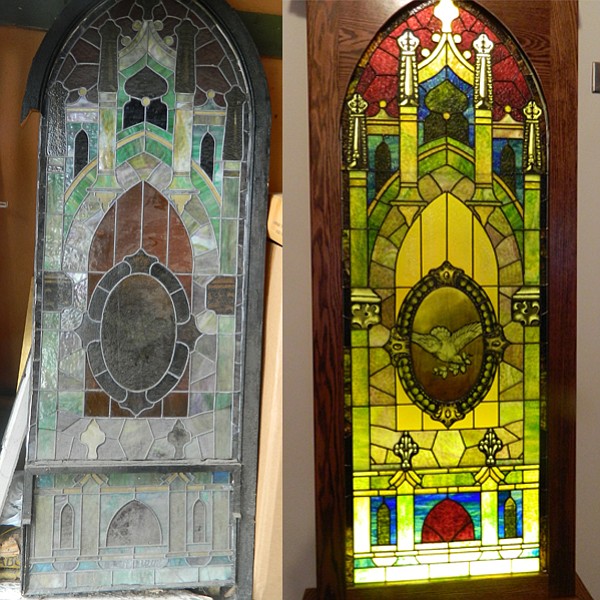 GREENCREEK – Stored and dust-covered for more than five decades, a century-old stained glass church window has been given new life.
Parishioners with St. Anthony's Parish Greencreek recently refurbished a 81-inch by 27-inch window that dates to the original construction of the church in 1900. It is currently displayed in a light box at the parish, available for view during Mass and normal operation hours.
The window was removed from the church following an Aug. 14, 1960, fire of undetermined origin that burnt the structure – along with statuary, furniture, vestments, and another stained-glass window with the likeness of St. Anthony — to ashes. A Free Press story reported Father James Shinnick saved the sacramental bread "and had to be restrained by parishioners as he attempted to enter the building again."
Since 1960, according to parishioner Arlene Baerlocher, the window has been moved to various storage venues, most recently in the garage of the adjacent "Sisters" house, now a rental. The new tenant of the "Sisters" house and other parishioners suggested restoration to preserve the church's vital piece of history.

Cindy Dillehay of ClearLake Art Glass, Cheney, Wash., cleaned the old glass, reconstructed portions and added new glass. Greencreek farmer/carpenter John Schumacher built the light box that houses the window.
"Today, due to collective community efforts, the dove in the center of the window shines beautifully," Baerlocher said.