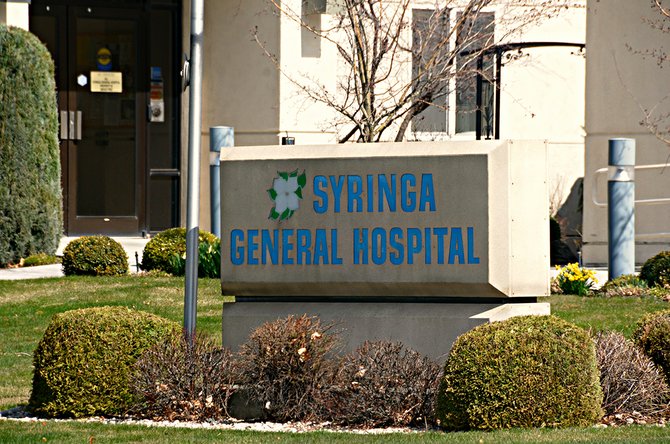 Photo by Lorie Palmer
GRANGEVILLE — Following the announcement of a $57,577 loss for fiscal year 2016 for Syringa Hospital and Clinics, board trustee Twila Hornbeck of Grangeville had a question for CPA Carl Swenson.
"What should we be watching for – do you see any areas of concern?" asked Hornbeck at the Jan. 24 regular board meeting. Certified public account Carl Swenson, with Crandall-Swenson, PLLC, of Boise, spoke on speakerphone to the board regarding the annual audit.
"No," he said shortly, which garnered a chuckle in the room. "That's the short answer."
"For a rural hospital," he continued, "Syringa has really been a shining star. You have good providers and are seeing more and more clinic action. You're building your investments [through enlarging and modernizing the facility] which in turn will provide more and better services and, ultimately, greater revenue."
Syringa's year-end loss of $57,577 compares to last year's gain of $100,453.
Even so, Swenson explained this is "typical" of rural hospitals especially, who have a high volume of Medicare and Medicaid patients and are, therefore, not fully reimbursed for actual services cost.
Swenson said Syringa has 70 to 75 percent Medicare/Medicaid clientele compared to St. Luke's in Boise, which has less than 40 percent.
Throughout the fiscal year, Syringa Clinic revues increased by 13 percent. A decrease of $38,000 was seen under "other operating revenues," as a State Insurance Fund settlement was received in 2015.
Ad valorem property (hospital district) taxes collected in 2016 were $517,284, while they were $486,240 in 2015.
Outpatient and ancillary service revenues increased in 2016, while in-patient hospital stays decreased.
Personnel costs, salaries, wages and benefits, make up 60 to 65 percent of the total Syringa budget. Numbers of hospital admissions were down by almost 7 percent while outpatient procedures were up (7 percent), as were clinical visits (21 percent) and laboratory tests (6 percent).
In all, Swenson said, Syringa is a "healthy business," and assessed it with a "Z Value" of 5.27 (5.68 in 2015 and 5.72 in 2014). The Z Value is a ratio that measures the overall financial health and viability of an organization. A Z Value above 3.00 is one that is "financially strong and viable," Swenson said.
The full audit report if available at the hospital business office for review.
In other news, the board continued to discuss an affiliation with Kootenai Health in Coeur d'Alene. A draft proposal was looked over by the board and hospital attorney Joe Wright. A meeting with Kootenai representatives was expected to take place last week.
The next board meeting is set for Tuesday, Feb. 28, 12:30 p.m., in the Soltman Center.