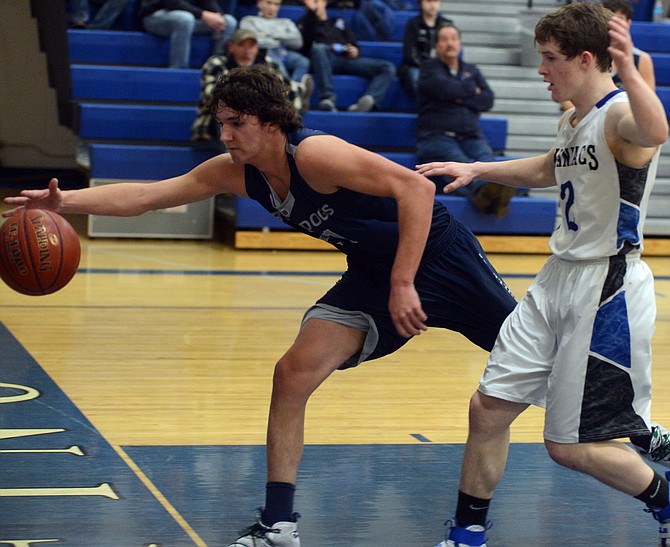 Photo by Andrew Ottoson
Grangeville senior Patrick Schumacher almost made the save on this loose ball, and almost saved the Feb. 6 game at Orofino for the Bulldogs with a three-pointer that sent the contest to overtime. Orofino's Garrison Bretz (right) helped lift the Maniacs to a 60-59 win.
OROFINO — The away stretch of the home-and-home series that will decide Grangeville's place in the Central Idaho League turned in the Bulldogs' favor when senior forward Patrick Schumacher banked in a three-pointer with 11 seconds to go last Monday night, Feb. 6.
It turned against the Bulldogs in overtime, and Orofino won 60-59.
His triple sent the game to overtime, during which the GHS boys opened up a 56-51 lead before Maniacs senior Garrison Bretz snapped off a couple of three-pointers with less than a minute remaining. With the teams alternating timeouts at each end during the endgame, Orofino seized the lead when 6-8 senior post Brandton Chatfield turned a broken play into a layup-and-one with less than two seconds left.
Chatfield grabbed an offensive rebound, whirled in the lane, scored the game-tying hoop at point-blank range and drew a foul call.
The Bulldogs had trailed through most of the contest, having seen an early 9-8 lead slip into an 18-12 deficit during the first quarter.
Grangeville trailed by five when Chatfield tallied a traditional three-point play with three minutes left in the game.
Schumacher cut Orofino's lead to 51-48 with a couple of free throws with 1:53 left, and neither team scored before his tying trey.
Schumacher finished with 19 points and Stokes totaled a team-high 22 for Grangeville. Orofino was led by Chatfield (22), Bayley Noah (16) and Bretz (14).
•
Earlier in the week, Grangeville rallied from seven down to beat Kendrick 56-53 on the strength of Schumacher's 18 points Friday night, Feb. 3, at GHS.
Stokes (11), Dreadfulwater (11) and Ryan Ruklic (11) also boosted the Bulldogs with double-digit point totals.
Then the GHS boys sweated out an overtime win against Genesee — Grangeville's second last-second win against those other Bulldogs.
In a similar situation last month at Genesee, Stokes drove and kicked out to Dreadfulwater for three.
Last Saturday, Feb. 4, Stokes turned two possessions into defensive fouls. He turned the whistles — late in regulation and late in the extra session — into the game-tying and game-winning free throws. Having knotted it at 38-all with 15 seconds left, Stokes lifted Grangeville to the victory, 43-40, in overtime.
Coming — Grangeville (8-9) is scheduled to play at 7:30 p.m. tonight, Feb. 8, at Clearwater Valley. The Bulldogs are slated at Kamiah Thursday night, Feb. 9 and at home against Orofino at 7:30 p.m. on Tuesday, Feb. 14. The CIL boys basketball district tournament is set to run the following week, Feb. 20-23.