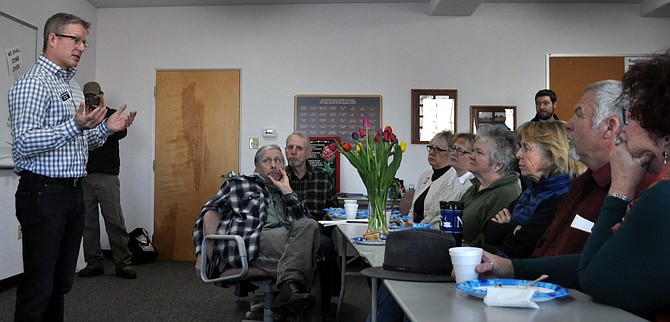 Photo by David Rauzi
Mat Erpelding, Dist. 19 Representative, (left) spoke to more than 40 people who attended a political meeting Jan. 29 at the Soltman Center in Grangeville, sponsored by the Idaho County Democrats.
Read Rep. Erpelding's Guest Opinion
The first month of the Idaho legislature has ended and it's clear that education continues to be the top concern amongst Idahoans. However, it remains unclear if it is a priority during this session. The majority party has either been distracted with their own internal quarreling or has focused on legislation that harms Idaho's national reputation and damages our economy....
Read more here:
http://www.idahocountyfreepress.com/news/2017/feb/08/priorities-education-economy-majority-party-distra/
GRANGEVILLE — What issues are upcoming, and where do Democrats head from here?
Officials with the Idaho Democratic Party (IDP) spoke to more than 40 people who attended a Sunday morning politics potluck, Jan. 29, at the Soltman Center in Grangeville. Key speaker was Mat Erpelding, Dist. 19 Representative and Minority Leader for the House. He acknowledged the continuing challenge of electing Democrats in a Republican-dominated state; for his own part, he didn't get into politics, he said, because it was easy.
"I get how hard it is," he said, "but it doesn't mean we stop."
Currently serving his third term, Erpelding described himself as an "accidental politician" who became involved as a legislative intern due to his concerns with statewide reforms – the "Luna Laws" — being proposed by then state education superintendent Tom Luna. As a result of that internship, "I was in the right place at the right time to win District 19," he said. Since then, it has been his honor, he said, to represent Democrats across the state.
For both Erpelding and IDP political director Tom Hamilton, one emphasis was on Democrats keeping on message and in the game. From the state party, its Rapid Response Team formed last fall directs scrutiny and political voice on legislative efforts; and it encourages Democrats to seek out opportunities in the odd years between legislative cycles.
"We have a lot of opportunities," Hamilton said, with four scheduled elections – March, May, August and November – in nonpartisan races for school boards, city councils, right down to small water and sewer districts. "Opportunities exist here to bring our values forward and make our communities better."
Both discussed the need to encourage younger voters to become involved, those who will served as the next generation of Democrat legislators. One area is in how county committees operate, which is seen as "archaic and pre-technology," in business meetings that could be handled through e-mails, and better use member gatherings for fun, relationship building.
Erpelding joked about revealing party strategy with a newspaper reporter in the room, but in seriousness he emphasized improving Democrat representation in the state is about messaging and also fund-raising. The party raised $1.3 million in the 1990 election and achieved a 50/50 representation in the legislature with Republicans. If today's Democrats would each donate $75 every year, he continued, "we'd be on the map playing." Another comment was by financially supporting local races, while they may be long shots, this ties up the opposition's funds locally, versus it being put to use in tightly contested races elsewhere.
Concerning messaging, Erpelding and Hamilton – affirmed with attendees' comments – said to reach out to neighbors on issues of commonality. One is the economics of presidential policies that threaten Mexico's economy (a large importer of U.S. beef and wheat), which could damage Idaho's ranchers/farmers. A weaker Mexican economy could also increase immigration. Education affects us all, and Erpelding summarized a proposed bill for rural teacher recruitment that provides an incentive of $3,000 a year of student loan repayment for up to four years.
"This will act as a tool for them to plant roots, plant families in the community," he said.
•
In other areas, Erpelding criticized opposition to minimum wage increase, calling it a form of "corporate welfare," that subsidizes businesses by having low wage earners to have to depend on public assistance. Democrats are also watching efforts at federal lands transfer to state control, as well as private leasing actions on state endowment lands that could threaten public access.