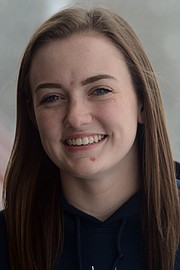 Grangeville senior forward Rachel Kelley scored 11 points and the GHS girls topped Orofino 53-34 on the first night of the District II basketball tournament last Saturday, Feb. 4.
For Grangeville, the matchup against Orofino features a significant height advantage in the post, where Kelley and others simply overpowered the Maniacs. In two previous games against the team GHS played for the district title Tuesday night, Feb. 6, the matchups inside have been played more physically.
Some of what fuels the Grangeville-St. Maries rivalry was stoked last winter, when Kelley's battles with the Lumberjacks' vaunted Auer sisters got rough.
Against Orofino — as in a game against Moscow last Thursday night, Feb. 2 — the Bulldogs went with what was working well.
Against Moscow, Kelley pointed out it was the GHS posts recognizing double-teams and cycling the ball back out to senior guard McKenzie Kennedy, who was shooting well from the field and tallied 27 points.
"We figure it out in the first quarter, who is shooting well, and it doesn't matter if it's me one night or (fellow forwards) JaKaili Norman or Kate Lutz or Mikayla Ruzicka," Kelley said. "It makes the game so much easier for us when Paige (Lindsley) gets going or McKenzie has a night like she had at Moscow."
The Bulldogs also figure out early in games how tightly the officials are — or aren't — going to call fouls.
And Kelley isn't one to shy away from contact.
"I got into it with the Auer sisters last year," Kelley said. "I've landed on them and they've landed on me."