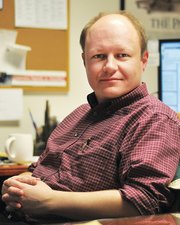 Turn on the tap, or drop a line in a clear river. You're enjoying the bounty of Idaho's fantastic waters.
So, thank a logger for this when you see one.
Oftentimes, the portrayal of natural resource industries is negative in how their operations impact the environment. But, a recently completed audit of logging operations on private, state and federal lands in Idaho shows 96 percent were compliant in applying laws designed to protect water quality.
Idaho Department of Environmental Quality, in collaboration with Idaho Department of Lands, presented the Idaho 2016 Interagency Forest Practices Water Quality Audit (find the full report online: www.idl.idaho.gov ) to determine whether administrative rules under the Idaho Forest Practices Act (FPA) were correctly applied on forest management activities across ownerships.
The Idaho FPA (Idaho Code 38-13) and corresponding administrative rules (IDAPA 20.02.01) ensure the health of forest soil, water, vegetation, wildlife, and aquatic habitat is maintained during the growing and harvesting of forest trees in Idaho.
Inspectors spent 10 weeks between May and October last year, visiting 62 timber sales on private, state and federal lands. Of the 2,712 instances where FPA rules were applicable, logging-related activity on 2,620 of these met or exceeded requirements. Most of the sites had no FPA rule violations at all. More than half of the total FPA rule violations occurred on less than 10 percent of the timber sales examined.
Concerning problems, the lowest rate of compliance was found in private nonindustrial operations. The most common problems overall included disposal of petrochemical and non-biodegradable waste (22 percent of the total observed violations) that included burning grease tubes and oil buckets in slash piles.
More good news, the quadrennial audits show that since 1984 compliance with FPA rules has improved by 14 percent across ownerships.
All this news might be amazing to urbanites, out of direct contact to the natural resource industries that create wealth and support the essentials of society. But to Idahoans and especially its rural residents, taking care of the lands we live, work and play in is just common sense.