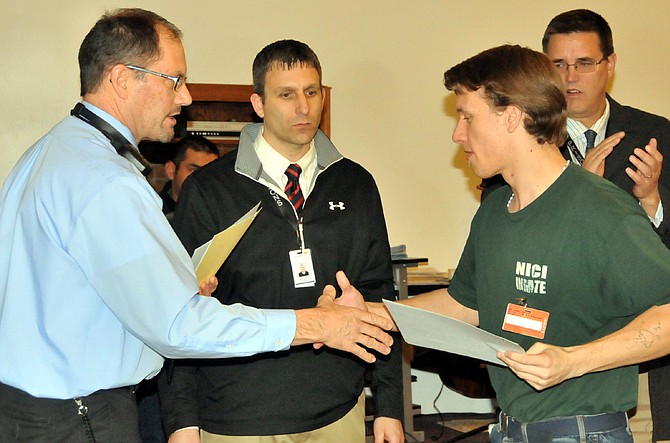 Photo by Laurie Chapman
A North Idaho Correctional Institution inmate receives his graduation certificate from teacher Kevin Rehder as staff member Jason Rambo and deputy warden Brad Lutz look on.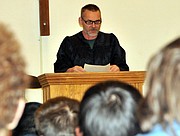 COTTONWOOD — A small graduation ceremony was held last week in Cottonwood. There were no caps with tassels and no family members to mark the milestone.
About 10 prisoners received certificates Wednesday, Feb. 1, at the North Idaho Correctional Institution (NICI). Those receiving recognition fulfilled requirements for the General Education Diploma (GED), substance abuse program, vocational training, and a program called Thinking for a Change.
Kevin Rehder, math teacher at NICI, spoke to the graduates briefly asking them to reflect on the work completed and offering his advice regarding happiness versus joy.
"Happiness is finite, it comes and goes in our lives," he said. "Joy is something you feel inside yourself."
Following Rehder, two inmates addressed the group of graduates. Both Joseph Lowry and Dale Erwin thanked the staff for assisting them in accomplishing goals each set. Lowry said later the graduation was just one more step toward life change.
"It's a sense of excitement," he said. "I haven't seen my family in six months. I made some stupid decisions while I was on drugs. I always thought 'I need to get myself cleaned up and get my GED.' This is finishing something I never finished."
He spoke about how staff helped him not only reach his educational goals, but also work toward remaining drug free. He talked about building a success plan and recognizing triggers that may cause him to relapse.
Lowry and Erwin both received vocational training at NICI, Lowry working with the color guard and as a janitor and Erwin working in the commissary. The intent of the program is providing job skills and reducing recidivism.
The programs are guided towards preparing inmates for life in their communities. The goal is success in the workplace and building positive relationships with their families. Along with the GED, substance abuse and vocational training, NICI also works with inmates through anger management and sex offender rehabilitation programs.
Warden Aaron Krieger said NICI has been recognized for the highest number of GED graduates in the state. While it's an accomplishment for both the staff and the inmates, Krieger notes the goal is what he calls "corrections for results."
"Ninety-seven percent of these men will return to their communities," he said.
Brad Lutz, deputy warden, reiterates the importance of the program.
"If they don't have an education," he said. "[Released inmates] are more likely to commit a crime."
NICI houses inmates who received a retained jurisdiction sentence. Staff evaluates each inmate as they arrive and provide programming based on the assessment. Upon successful completion of programs, a judge evaluates whether the inmate is a viable candidate for probation, or will be retained for incarceration.
Erwin said he has a hearing Feb. 7 and will learn whether he will be released.
"I have a baby back home that was born in September," he said. "I haven't even seen my baby yet. I'm looking forward to getting home to my family. This is exciting, it's a step toward getting there."